Kathryn Bigelow Shooting Bin Laden Drama In India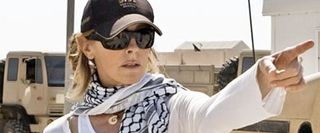 Director Kathryn Bigelow and screenwriter Mark Boal have been tight-lipped on details about their collaborative follow-up to the Oscar-winning Iraqi War drama The Hurt Locker, but THR has uncovered that Bigelow's untitled thriller, which centers on the Navy SEAL Team Six operation that killed Osama bin Laden, is currently shooting on location in India. While Bigelow and her crew have been working hard to keep the mysterious feature under wraps, locals of Chandigarh's Sector 15 noticed set dressings that made over their neighborhood to resemble Pakistan, specifically, "Autorickshaws with Lahore number plates and signboards painted in Urdu caught the attention of passers-by."
The Times of India newspaper broke the story and reported that Bigelow had arrived Tuesday to begin production the following day. After a five-day shoot in Chandigarh, Bigelow's crew will move south to the desert region of Rajasthan, which will likewise serve as a stand-in for Pakistan. Bigelow has often expressed her preference for shooting on location whenever possible, but obvious safety concerns barred her from shooting her latest feature in Pakistan. Notably, she pulled a similar setting swap for The Hurt Locker, shooting on location in Jordan—just miles from the Iraqi border--rather than Iraq proper. This was still considered a risky move, scaring off many mainstream investors and forcing Bigelow to independently produce the film. Of course, we all know how well that turned out.
Bigelow's bold determination in her vision made The Hurt Locker such a standout, apparent through the film's gritty realism, heart-stopping cinematography, and riveting performances. It's a mean feat and high standard she seems set to repeat between this location shooting and the incredible cast she's culled together, which includes such rising stars as Jessica Chastain, Chris Pratt, Joel Edgerton, Jennifer Ehle, and Fares Fares. At this rate it seems certain that as soon as this thriller gets a title, it'll be touted as one of 2013's major award contenders.
Staff writer at CinemaBlend.
Your Daily Blend of Entertainment News
Thank you for signing up to CinemaBlend. You will receive a verification email shortly.
There was a problem. Please refresh the page and try again.