Katie Cassidy May Go Nerd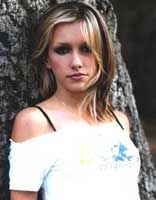 FoxAtomic is about to cast the obligatory hottie for their upcoming Revenge of the Nerds remake. Variety says they're currently in negotiations with Katie Cassidy for the part of Suzy Stone, campus queen and head of the Pi Delta Pi sorority. Power babe she may be, but once she goes nerd, she'll never go back.
It's been a good year for Katie Cassidy, who until recently was almost an unknown. Not long ago she beat out big names like Jessica Simpson and Lindsay Lohan for the extremely high-profile role of Lucy Ewing in the currently underway Dallas movie.
Before she finishes with either film, you can see Katie Cassidy in the new horror film Black Christmas. Earlier this year you might have seen her as the quickly killed, bitchy best friend in When a Stranger Calls.
Your Daily Blend of Entertainment News