Keanu Reeves Still Keeping Hope Alive About Bill And Ted 3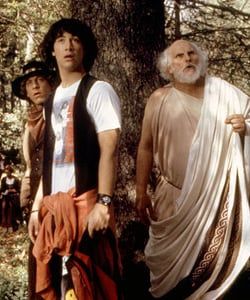 Way back in March, Keanu Reeves, very obviously joking, told MTV that a Bill and Ted sequel was in the works. The 46-year-old actor is at it again, this time in a much more relaxed and believable conversation with MTV at TIFF, seemingly the only people who bother asking him about the film.
He speaks kindly about the possibility of getting back together with cast and crew, but only if the story is there and if the movie can stand up on its own:
Let's go over all the reasons to be skeptical about this. First, everyone is old, and some of the players are dead. Keanu and co-star Alex Winter are pushing 50, and sadly George Carlin, who played the lovable and wise Rufus, has passed. Second, the charm of late 80's special effects would be lost today. Everything would just be CGI and chances are it would look terrible. Third, 3D ruins pretty much everything that isn't animated and there's not doubt B&T3 would get the treatment. The film just won't work today.
Regardless, Keanu manages to keep hope alive that this movie is going to happen, and even though it probably won't (though a remake will inevitably appear on the horizon soon enough), the interview is worth it to hear Reeves do an impression of the German-as-hell director Werner Herzog. Scope out the 2-minute interview below.
Movie Trailers (opens in new tab) - Movies Blog (opens in new tab)
Your Daily Blend of Entertainment News
Thank you for signing up to CinemaBlend. You will receive a verification email shortly.
There was a problem. Please refresh the page and try again.