Keira Knightley Wants To Play A Bisexual French Writer In Planned Biopic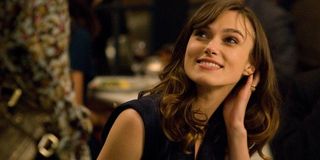 Keira Knightley has set her sights on her next starring role, as the English actress is in advanced discussions about taking the lead in Colette. The biopic will revolve around the titular French writer, who wrote the famous novel Gigi, which earned her a Nobel Prize For Literature in 1948, and was turned into the 1958 musical of the same name by Vincent Minnelli.
Colette is being developed by HanWay, the production and sales team behind the recent indie success Carol. So it makes sense that they have decided to go with another period piece that is triumphantly female led, while Keira Knightley's casting may remind many of Rooney Mara's in Carol. HanWay will be working alongside Bond Films, which recently had tremendous success with Nightcrawler and Whiplash.
After announcing that Knightley is currently inline to portray Colette, Bond Films' chairman Michael Litvak remarked to The Hollywood Reporter that she was "impeccably suited" to the role. Adding further details about Colette, Litvak explained that the film's plot will revolve around the writer "who in the early 1900s pushed the envelope in a time when women writers were shunned and bisexuality was scandalous."
But who exactly was Colette? Well, she rose to prominence in the early years of the 20th century after it was revealed that she'd been writing novels that were then being published under the name of Willy Gauthier-Villers, her first husband and a famous Parisian citizen.
Colette and Willy's marriage ultimately resulted in a separation, but far from hindering her literary profession her career blossomed. In 1920 she published Cheri, and in 1944 her most famous novel Gigi was released. Something that was made even more remarkable as she wrote it while living through the Nazi occupation of Paris.
Keira Knightley's decision to take on a role of this ilk is hardly surprising. After her work in the Pirates Of The Caribbean trilogy, Knightley has been on a mission to appear in more independent and female-led films. These have included The Edge Of Love, The Duchess, Never Let Me Go, A Dangerous Method, Anna Karenina, and Begin Again. In each of these Knightley has shown a more complex and emotional side to her talents, which blockbusters didn't give her the freedom to do. And Colette will almost certainly snuggly fit into this category.
Keira Knightley will probably be hoping that her performance as Colette might result in her third Academy Award nomination, as she previously picked up a Best Actress nomination in 2005 for her turn in Pride & Prejudice, while she was also nominated for her role in 2014's The Imitation Game. It certainly has all the ingredients to do just that.
Your Daily Blend of Entertainment News