Kevin Feige Says Marvel Studios Has Movies Planned Up To 2028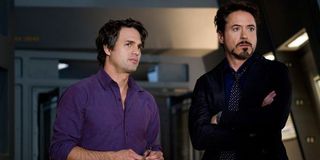 How many Marvel movies do you want? How about all the Marvel movies? Right now, the studio is stepping up to the plate and blasting them out like Barry Bonds with a handful of flax seed oil coupons. And who could blame Marvel Studios President Kevin Feige for getting a little bold and presumptuous? He's a very public figure who gives great quotes to the media, and he's had plenty of opportunities with the release of this weekend's Captain America: The Winter Soldier to do so. And now he's unleashed yet another impressive detail about Marvel's future plans.
In a sprawling Marvel feature in the new issue of Business Week, Feige lets it slip that all you need to do is walk into his office to find out what the next Marvel movies are. He claims he has a map of the Marvel Cinematic Universe - past, present and future - all up on the wall.Said Feige,
Oh, you know, no big deal, I've got blockbusters scheduled for the next fourteen years, I play with superheroes for a living, and no one tells me what to do, la la la. Kevin Feige's life is the greatest fantasy you didn't even have the balls to imagine when you were 12. They should remake Big, and it should star Kevin Feige. He must drive a car fueled by dreams.
So what does the studio have coming up? August brings James Gunn's Guardians Of The Galaxy, next May is when Joss Whedon's The Avengers: Age Of Ultron arrives, and in July 2015, Edgar Wright's Ant-Man is on the scene. Going beyond that, May 2016 promises a showdown between Captain America III and competitor Warner Bros.' Batman/Superman. And that still leaves time for a Thor 3, another Hulk, and debuts for characters like like Dr. Strange, Captain Marvel and Black Panther (and maybe even a Guardians Of The Galaxy spinoff film, as the article suggests could happen).
The entire piece is worth a read, if only to learn how Kevin Feige made his way up the ranks of Marvel, how Marvel became Disney property, and how Feige and James Gunn hashed out what kind of role Thanos would play in Guardians Of The Galaxy (apparently it's a big part). There's also some talk about the early days of Feige and the company desperately shopping comic book movies to skeptical investors, and arguments that shaped the Spider-Man, Thor and Captain America onscreen franchises. More importantly, it emphasizes just how good it is to be a Marvel movie fan in 2014. Y'all are getting spoiled, and Feige is going to keep you fed for the next decade and beyond.
Your Daily Blend of Entertainment News