Kevin Smith's Next Movie Is Not His Own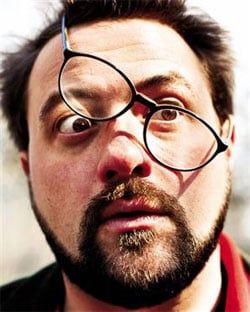 Kevin Smith's next movie is not his own. As we guessed, he's agreed to direct a studio film, his first ever gig directing a movie written by someone else.
ERC Box Office reports that Smith has signed on to helm A Couple of Dicks for Warner Brothers. It's written by Robb and Marc Cullen and stars Bruce Willis (whom Smith worked with as an actor on Live Free or Die Hard) and 30 Rock's Tracy Morgan. No specific plot details, except that this is a caper comedy and since it's Warner Brothers, expect it to be more mainstream than anything else Kevin has done before. With a title like A Couple of Dicks though, maybe he won't have to cut back so much on the "dick" jokes.
My hope is that Kevin is still able to retain the rated-R core of what he does, even inside the often watered down, big blockbuster system. This is the first time he's ever worked for a big studio. His past movies have all been done with The Weinstein Company or Miramax, auteur friendly studios which are more likely to let an edgy director like Smith have free reign. At Warner Brothers he'll be under pressure to deliver a movie that doesn't have the word "Porno" in the title. They're going with "Dicks" instead.
Your Daily Blend of Entertainment News