Kevin Smith Releasing His Green Hornet, Kind Of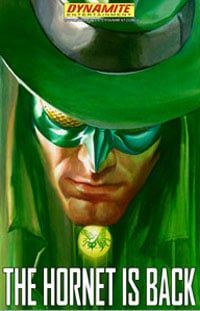 Kevin Smith announced today via EW.com and his blog that he would be releasing two new comic series this year, including a new Batman run called "The Widening Gyre", which will feature a brand new DC hero. Although another Batman run from Smith is certainly exciting, the more intriguing series is definitely a run of The Green Hornet that will be based partly on Smith's scrapped script for a movie of the franchise.
As I'm sure many know, Smith was originally attached to both write and direct a movie based on The Green Hornet, but unsure of his skills as an action director, he eventually dropped out. Sony Pictures was then lucky enough to sign Seth Rogen (who would later star in Smith's Zack and Miri Make a Porno) on to write and star in the movie. How's that for a small world? Smith states on his blog: "This is about as close as I'll get to making that Green Hornet flick I walked away from directing all those years ago."
Considering the only thing that ever came of Smith's Superman Lives script was internet distribution, this is way more than I could have ever expected from a dead project. How many times have you wished you could see some form of all of those amazing movies that got sucked into the black hole of Hollywood? Aronofsky's Batman. Gilliam's Watchmen. Whedon's Wonder Woman. Well for now, at least we get to see one come to life on the page.
Your Daily Blend of Entertainment News
Thank you for signing up to CinemaBlend. You will receive a verification email shortly.
There was a problem. Please refresh the page and try again.