Kiefer Sutherland's Emotional Reaction To Working Opposite His Father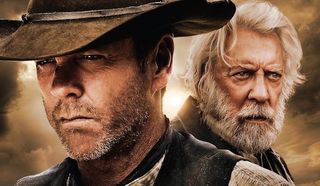 There are numerous families that are something of Hollywood royalty, where multiple generations have been stars on the big and small screens. Sometimes these generations get to work with one another, and on occasion, real life parents and children even get to parents and children in a project—think Jane and Henry Fonda in On Golden Pond. 24 star Kiefer Sutherland recently had the chance to star opposite his Golden Globe winning father, Donald Sutherland, and it was apparently a deeply emotional moment.
Kiefer and Donald Sutherland took the opportunity to work together in the upcoming western, Forsaken, where they, surprise, surprise, play a father and son. Though the younger Sutherland prepared himself to work with his father ahead of time, when it actually went down, he told the LA Times that it was overwhelming. He said:
Though the two actors have wanted to work together for years, they've never had the chance until now. Donald and Kiefer Sutherland have appeared in the same movie before, twice before to be precise, though they have never actually shared the screen or got to work with one another. Kiefer shows up briefly, very briefly, in the Neil Simon-penned 1983 comedy Max Dugan Returns, and both appear in the 1996 John Grisham adaptation A Time To Kill, only in separate scenes.
Forsaken is a kind of inverted take on George Stevens' classic 1953 western Shane. The action sees Kiefer Sutherland's world-weary gunslinger John Henry Clayton, who has amended his violent ways, return to his home, try to settle down, and attempt mend his relationship with his father, a reverend played by Donald Sutherland. But you that in this type of story you can never put down your guns for very long, and before much time has passed, John Henry is forced to pick up his irons once again to stand up to a vicious, land-grabbing gang that threatens ranchers into selling their farms before a railroad goes through the territory.
Forsaken also reunites Kiefer Sutherland with director Jon Cassar, who helmed a ton of episodes of 24, both during the original run and the various follow-ups. Brian Cox and Demi Moore also star. Forsaken got a limited theatrical release and is available on VOD starting today.
Your Daily Blend of Entertainment News
Thank you for signing up to CinemaBlend. You will receive a verification email shortly.
There was a problem. Please refresh the page and try again.