24: Live Another Day Could Have Ended Much Differently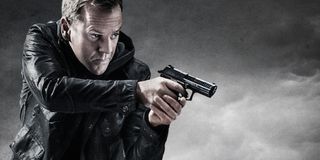 24: Live Another Day being set up as a "limited series event" meant that the finale could have ended any number of ways. Series creator Howard Gordon has revealed a couple scenarios that had been discussed about how 24: Live Another Day would wrap up, and it's at this point that you should walk away if you're still not caught up on the Fox drama, which wrapped up its final episode last night, and don't want to be spoiled!
Ok, that's your one spoiler warning! Well, that and this one.
Did Jack Bauer die at the end of 24: Live Another Day? No, Jack Bauer lived (another day), but that might not have been a sure thing. In fact, from what 24: Live Another Day executive producer Howard Gordon told Deadline, they did tinker with the idea of killing Jack Bauer off at the end of the limited series. "This has always been a show that is really about the days and the life of this man and no day is probably as intense as a person's last day," Gordon revealed. "So killing Jack was something that was intriguing to us all but it had to be done just right. And that didn't present itself to us."
So Live Another Day could have been Jack Bauer's last day, but the writers decided it wasn't, which leaves the character alive to fight terrorists again if and when it's required. But it does make us consider the idea that we might actually see Jack Bauer's last day, perhaps in the future, either in a movie -- if that ever manages to happen -- or another limited series. Fox's willingness to commit to a one-season event series demonstrates the network's willingness to commit to a shorter format, which may be the way we see Jack Bauer again at some point in the future.
In the meantime, just because Jack Bauer survived Another Day doesn't mean the limited series didn't end tragically, and not only because Bauer is bound for Russia. Jack Bauer kind of has a history of losing the women he loves, going back to the death of his wife. And then there was Renee in Season 8. It was looking like Audrey had managed to avoid what appears to be a curse of Jack Bauer's girlfriends. Alas, she was killed by a sniper during last night's finale. And the series did a bit of a fake-out with the situation, making us think she was safe only to have her shot later by a second sniper.
From what Gordon says, Audrey's death was a group decision on the part of the writers, and it sounds like tragedy was the poetic route for Audrey, who faced her fair share of challenges over the years. "In a way it is because of that that we all decided this was the way to go with Audrey's death," Gordon said. "There was something about Audrey's tragic life that it would have felt too saccharine not to go this way."
Jack grieved Audrey's death by beheading Chang with a sword. And Heller reacted by collapsing. He later tragically noted that due to his Alzheimer's, he wouldn't even remember that he had a daughter.
Not only was Audrey's death one more tragedy among a series of losses for Jack Bauer, but it was also the last straw for Kate Morgan (Yvonne Strahovski), who took Audrey's death hard, as it happened on her watch. Kate was last scene filing her report and dropping off her gun and badge. Hopefully Kate's "retirement" is only temporary and that she'll return to action if and when Jack Bauer does at some point in the future. In the meantime, it looks like she's done.
And with that, 24's latest chapter ends bittersweet, which is tonally fitting for Jack Bauer, as most of his victories come with casualties and tragedy.
Your Daily Blend of Entertainment News
Assistant Managing Editor
Kelly joined CinemaBlend as a freelance TV news writer in 2006 and went on to serve as the site's TV Editor before moving over to other roles on the site. At present, she's an Assistant Managing Editor who spends much of her time brainstorming and editing feature content on the site.
Your Daily Blend of Entertainment News
Thank you for signing up to CinemaBlend. You will receive a verification email shortly.
There was a problem. Please refresh the page and try again.