Kingsman 2 Wants A Female Villain, Found The Perfect Actress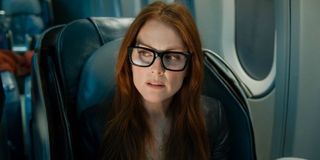 Since Kingsman possessed Samuel L. Jackson's lispy billionaire Richmond Valentine and Sofia Boutella's bladed prosthetic legged Gazelle as its villains, it was always going to be a big task for its upcoming sequel to top these advesaries. But, they've taken a huge step in the right direction with the revelation that Matthew Vaughn and his creative team are circling Julianne Moore as the action flick's new foe.
The Hollywood Reporter have alleged that Julianne Moore, who is the current incumbent of the Best Actress Oscar for her work in Still Alice, is currently in talks to play the villain in The Kingsman 2. No doubt this will have included her chatting profusely with Matthew Vaughn, as the Kick Ass, Layer Cake, and Stardust director is back to oversee the sequel.
Unfortunately, further details regarding Julianne Moore's potential character in Kingsman 2 have not yet been revealed. But, if the hugely talented actress is able to strike a deal with Matthew Vaughn to appear, then it's already been teased that she'll be the foe, who will undoubtedly cause all kinds of problems for the returning Taron Egerton.
However, there is one rather big issue that might stop Julianne Moore, who last appeared on screen in The Hunger Games: Mockingjay – Part 2, from appearing in Kingsman 2. It's been reported that Kingsman 2's filming will begin around May, with its shoot then taking place across the summer months.
But, as you'd expect because of her esteemed talent, Julianne Moore's schedule is pretty hectic at the moment. She is currently working on several projects, including an adaptation of the children's book Wonderstruck, which is being overseen by Todd Haynes.
Julianne Moore is also part of the ensemble for Suburbicon, a crime mystery that also stars Matt Damon and Josh Brolin, has been written by Ethan and Joel Coen, and is being directed by George Clooney. In translation, it sounds immense.
Suburbicon, Wonderstruck, and Kingsman 2 are all deep in pre-production, and are on the cusp of starting filming. Which means that, unfortunately for us, Julianne Moore is going to have to do some long hard thinking about which of these films she prefers and has the time to feature in. Obviously, each of these projects sound utterly tantalising, and would only be improved upon with the presence of Julianne Moore. But that's just not going to happen, and at least one of them is now likely to miss out.
Kingsman 2 will see Taron Egerton's Gary "Eggsy" Unwin as a fully-fledged member of Kingsman following the antics of the original film. Both Colin Firth (really?) and Mark Strong have confirmed their interest in returning for the follow-up, which was greenlit after Kingsman: The Secret Service grossed $414.4 million in January 2015, and was met with sterling reviews too.
Kingsman 2 has a tentative release date of June 16, 2017, and it will hopefully have Julianne Moore as its villain. Because it's a rumor that's just so perfect it really needs to happen.
Your Daily Blend of Entertainment News