One Major Change Kingsman 2 Will Make Over The Original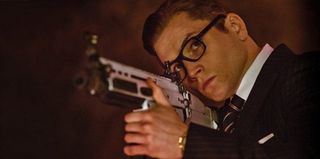 When it was released last year, Matthew Vaughn's hyper-violent R-rated comic book adaptation, Kingsman: The Secret Service, was an unexpected hit. Sure, it looked like fun, but it was way more exciting, violent, and entertaining than most anticipated, and it became a significant hit. With that success, a sequel was always on the way, but according to star Taron Egerton, Kingsman 2 will make some serious changes, including taking the action on the road.
Taron Egerton is currently stumping for his upcoming biopic Eddie the Eagle, which sees him costar with Hugh Jackman. But when Collider caught up with him, he took the opportunity to reveal that Kingsman 2 will be a more worldly affair. He said:
Based on the comic by Mark Millar and Dave Gibbons, Kingsman: The Secret Service is essentially an origin story. It tells the tale of Gary "Eggsy" Unwin (Taron Egerton), a street tough who is far more resourceful than his situation suggests. Colin Firth's character, codenamed Galahad, recruits him into a secret society of international super spies that go around behind the scenes saving the world, fighting a henchwoman with crazy razor legs, and stuff. No big deal.
As a result, the story generally revolves around England, where Eggsy is from and where his training goes down. Though they do go a few places in the world of the movie—like Kentucky—it was filmed in the UK. From what Taron Egerton says, Kingsman 2 is going to broaden the character's horizons quite a bit. It's a big world after all, and he's an international spy, so it stands to reason that some of the threats coming down the pipe will have a more exotic flair. We don't know exactly where Eggsy and company will be going, but it sounds like they're going to do much more globetrotting than in the first movie.
Also, what Taron Egerton says about the villain sounds quite promising to our ears. If the guy who leads your franchise, who had his industry status catapulted into an entirely new level because of this role, wishes he could play another part, the script must have done something right.
We don't know a ton about Kingsman 2 at the moment, but it sounds like Matthew Vaughn will be back in the director's chair, and as it ramps up production over the next few months, we'll likely start to hear more. Kingsman 2 opens June 16, 2017.
Your Daily Blend of Entertainment News