Kingsman Almost Had This Badass Flashback Sequence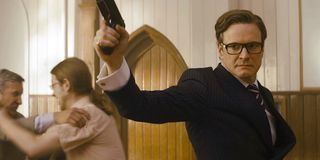 Action spy thriller, Kingsman: The Secret Service may very well have proven itself as having one of the more interesting box-office stories in a month overshadowed by Fifty Shades of Grey. The Bond-inspired bonanza of butchery has held rather steadily in its second week, generated some positive word of mouth and looks on track for at least $100 million in its domestic take. However, it seems that moviegoers missed out on a rather noteworthy flashback scene which utilized extensive digital effects technology to make the iconic Michael Caine look younger. Thankfully, the animation studio that worked on the film has just released some images of the scene that could have been.
The images (which no longer are online) come from London-based animation studio, Jellyfish Pictures, who provided the digital effects for much of the high-paced, stylized ultraviolence on display in Kingsman. We've seen this kind of digital de-aging done plenty of times in film. However, the advances in technology since, for example, when we saw "Young T-800 Arnold Schwarzenegger" digitally reproduced in 2009's Terminator Salvation are absolutely remarkable. The precision is freaky with little to no hint of artificial rendering, despite efforts from critical eyes to find those signs. It's as if someone had jumped in a time machine and grabbed the early 1970's Michael Caine from Get Carter and transported him to be in a 2015 movie.
Of course, what is the freakiest part of all of this? This spectacular sequence was CUT from the film! Yes, it seems that director, Matthew Vaughn made what had to be a difficult creative choice to leave this mind-blowing and likely expensively produced scene on the cutting room floor. According to Mark Millar, creator of the original Kingsman comic book and co-writer of the film script, this was a necessary sacrifice.
In the film, Caine plays the seemingly grandfatherly leader of the Kingsmen organization, Chester King, who holds the organization's top dog title of "Arthur." However, as fate would have it, the typically sagely presence that Caine tends to bring to the big screen these days would come with a twist. The deleted flashback scene, reportedly set 40 years in the past, is clearly character-building and perhaps provides some important contextual background for the Kingsmen organization.
However, for a film as fast-paced and in-your-face like Kingsman, the idea of taking time to slow down to depict events that don't have a direct impact on the immediate crisis at hand was probably disruptive to the flow of the film. Thus, Vaughn left it behind, cool as it would have been to see. Fortunately, the scene seems destined for the film's eventual Blu-ray/DVD release.
Kingsman: The Secret Service can be seen, sans digital young Michael Caine, but packed with dirty jokes at theaters right now.
Your Daily Blend of Entertainment News