Kinky Batman Makes Fifty Shades Of Grey So Much Cooler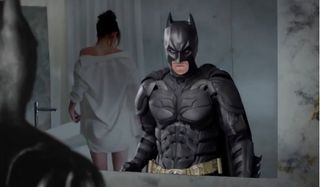 Bruce Wayne leads a double life. By day, he's a well-respected billionaire playboy who heads up Wayne Enterprises and attends lavish parties with ballerinas as his dates. At night, the mask goes on and he dives into a world of depraved acts and his "playroom" full of bits and bobs that would make Anastasia Steele blush. And, no, we're not talking about him being the Caped Crusader.
YouTube user Josh Meeter created the Fifty Shades of Grey parody that we all deserve, Fifty Shades of Wayne. Within the description of the video, Meeter writes that this is what popped into his head when his wife tried to explain what the worldwide BDSM sensation was. His thinking was legit: a secretive, wealthy entrepreneur falls in love but has hesitations about introducing her to his double life. Will she understand why he has to do what he has to do? He's also haunted by the ghosts of his parents, having witnessed their deaths as a young boy, which prompted him to lead the life that he does. Also, if you think about it, Batman gets off at inflicting pain. Not on those he loves, but on the criminals of Gotham, and he sometimes does so with whips.
If Fifty Shades of Wayne proves anything, though, it's that men as a whole just don't understand what this story is all about. Yes, the film is based on the erotic BDSM love story penned by E.L. James, which in turn is based on her erotic Twilight fan-fiction. But the main selling point here is that it's pegged towards a woman's sexual fantasy, meaning no "Wham. Bam. Thank yah, Batman!" scenes you might find in a conventional Skin-emax flick. The film was also written by a woman (James) and directed by a woman (Sam Taylor-Johnson). This parody video is just one attempt for the opposite sex to wrap their heads around what they saw in theaters.
Fifty Shades of Grey is clearly still prevalent in the pop culture conversation. Since debuting on Valentine's Day weekend, it's been breaking box-office records left and right. On the other hand, it also attracted a whole bunch of complaints in light of its subject matter. There are entire countries that refuse to screen the film to its citizens, and there are multiple online campaigns boycotting the film in claiming that it glorifies sexual violence towards women. It also doesn't help the film's case that one man made headlines for mimicking the film in real life. If anything, perhaps this Fifty Shades of Wayne will lighten the mood a bit.
Your Daily Blend of Entertainment News
Thank you for signing up to CinemaBlend. You will receive a verification email shortly.
There was a problem. Please refresh the page and try again.