Fifty Shades Of Grey Fan Arrested For Sexual Assault After Recreating Scenes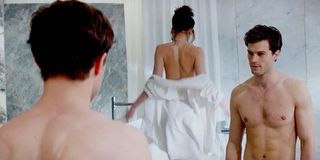 While Fifty Shades of Grey continues to bring in some serious bank at the box office, debate and controversy over the film's content has also run amidst. And in the latest news, a college student was arrested over the weekend, claiming that his acts of sexual assault were inspired by the film.
A 19-year-old college student at the University of Illinois at Chicago was arrested for alleged sexual assault on Saturday. And according to THR, the student, Mohammad Hossain is still currently in custody. The police report detailed Hossain with a 19-year-old female student (which he had previously been intimate with), recreating scenes from the film. The woman agreed to remove some of her clothing, but then Hossain allegedly tied her hands and legs, and placed a necktie over her mouth before hitting her with a belt. This particular scene does occur in the film when Christian Grey and Anastasia Steele first 'play' in the red room.
But, prosecutors say that the woman told Hossain to stop, and he started punching her, and then sexually assaulted her. She was only able to leave when his roommate got home. Hossain stays by his claim though, and told police that he was merely recreating scenes from Fifty Shades.
The BDSM romance flick is coming up on its third weekend in theaters, opening on Valentine's weekend and has already been the cause of many disturbing stories in the news. On its opening weekend, a man was attacked by three woman during a screening of the film. Apparently the trio were drunk in the theater and being rowdy when a man sitting nearby asked them to be more considerate, and the story ended in the three woman being arrested for attacking the man. Also on opening weekend a group of about 100 teenagers stampeded a theater, with some threatening words added to the mix because of the age restriction on the showing (under 17 not allowed).
The film was banned in a number of countries and has been causing some uproar in those that are showing it. There was even a woman caught masturbating during the film. And it is not only affecting those who want to see the film. There have been instances of the R-rated film being shown instead of children's movies and adrive-in screening aside a children's go kart track.
But, within all of the chaos, this arrest is probably the worst to come to light. There have been many protesting the film because of its dense sexual content, but also those protesting that the movie is promoting domestic violence. And whether or not you agree on that issue being highlighted in the film, this recent arrest is probably not the type of publicity that Fifty Shades wants attached to it.
Your Daily Blend of Entertainment News