Kristin Scott Thomas Up For Suite Francaise With Michelle Williams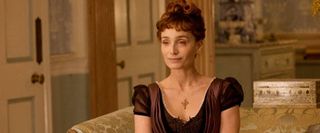 English actress Kristin Scott Thomas brings a regal air and respectability to whatever project she chooses to commit to. Having recently wrapped on Nicolas Winding Refn's Drive follow-up Only God Forgives, the BAFTA-winning, bilingual star is currently in production on the French drama Avant l'hiver, which translates to Winter Rose. And she already has her sights set on what could well be her next award-courting role in the World War II romance-drama Suite Francaise.
The film, based on Irène Némirovsky's heartbreaking novel, was published more than 60 years after her death. Its story was intended to be play out over a five novels, but Némirovsky had only penned the first two before she was captured by Nazi forces and thrown into a concentration camp for being Jewish. She died in Auschwitz in 1942, but her work lives on thanks to her granddaughters who discovered her stories, and published them together as Suite Francaise in 2004.
Just days ago, we reported that indie cinema MVP Michelle Williams is attached to star, playing Lucille, a young French wife who falls for a German officer named Bruno who is tasked with overseeing her region of Nazi-occupied France. Screen Daily reports that Thomas is also attached to the project, lined up to play Lucille's overbearing mother-in-law, a role she's sure to make scintillating should she sign on.
However, neither Williams nor Thomas will commit until a production schedule is set down. For now, the filmmakers, which includes Duchess writer-director Saul Dibb, who wrote the adaptation, as director, are searching for the lucky leading man who will play Bruno. If all goes according to plan, Suite Francaise will shoot with its heralded actresses in spring of 2013.
Staff writer at CinemaBlend.
Your Daily Blend of Entertainment News
Thank you for signing up to CinemaBlend. You will receive a verification email shortly.
There was a problem. Please refresh the page and try again.