LAFF: Night Catches Us Review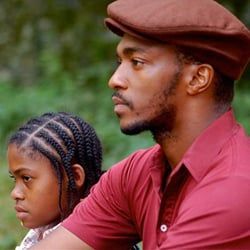 It's sad that films with casts consisting of primarily African-American actors are typically shallow affairs along the lines of Soul Plane and Who's Your Caddy?. Because of this, it's rare that a film with an all-black cast will find itself with a release date in the heart of Oscar season. But this is one of the many reasons why we have independent film festivals: to get attention for smaller films outside of the Hollywood system, and Night Catches Us certainly delivers.
The first feature from writer/director Tanya Hamilton, the film is set in 1976 Philadelphia where a young man named Marcus (Anthony Mackie) returns home for his father's funeral. A former member of the Black Panthers who disappeared for four years after being labeled a snitch, he has no intention of sticking around – that is until he runs into Patty (Kerry Washington), a connection from his past, and her young daughter, Iris (Jamara Griffin). After Patty neutralizes the threat from the local chapter, Marcus decides to stick around and be the "man of the house" for Patty and her daughter. Soon after, however, the cycle of violence that Marcus attempted to escape years earlier returns and the militant movement begins to resurface, causing Marcus to realize how hard it is to outrun your past.
Part of the triumvirate, along with Jeremy Renner and Brian Geraghty, that made last year's The Hurt Locker the incredible success that it was, it should surprise nobody that Anthony Mackie is an immensely talented actor and it's once again obvious in this film. Marcus is certainly in favor of equal rights, but he has seen the awfulness that can occur when things are taken too far. The character has some truly wicked demons and Mackie plays it perfectly.
Where the film loses points is in its presentation. Shot in digital on ever popular Red One camera, everything is crisp and beautiful – everything a movie about the 1970s Black Panther movement shouldn't be. While I certainly wouldn't advocate adding scratch marks a la Grindhouse, the sharp cinematography coupled with the fact that the Philadelphia neighborhood in which they shot hasn't changed much over the last 40 years makes the film appear far too modern. The set dressings and costumes are perfect but everything looks far too bright for a period piece with such a dark tone.
Night Catches Us is a powerful story backed by fantastic performances that take it to another level. A project that Hamilton has been trying to get developed for over a decade, this is quite obviously a passion piece and her research into the era was obviously meticulous. Already set for a wide release later in the fall, this will not be the last you hear of this film.
For more coverage from the 2010 Los Angeles Film Festival click here.
NJ native who calls LA home; lives in a Dreamatorium. A decade-plus CinemaBlend veteran; endlessly enthusiastic about the career he's dreamt of since seventh grade.
Your Daily Blend of Entertainment News
Thank you for signing up to CinemaBlend. You will receive a verification email shortly.
There was a problem. Please refresh the page and try again.