Labyrinth Is Getting A Remake, Here's What We Know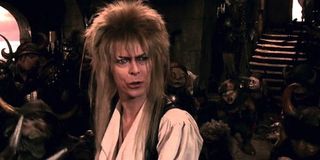 The world of music, film, and entertainment in general lost a giant just a few weeks ago as David Bowie passed away at the age of 69-years-old after a battle with liver cancer. His acting resume isn't the most extensive, though it includes more than 40 roles dating all the way back to 1967, but now it looks like one of his most memorable characters is coming back to the big screen, as there's a Labyrinth remake in the works.
David Bowie stars as the Goblin King in the beloved 1986 classic, one of those movies that is ostensibly aimed at kids, but features far more adult themes and content than you realized at the time. Hell, many of my generation were scarred by watching Labyrinth, and I mean that in the best possible way. According to The Hollywood Reporter, the Jim Henson-directed film, which featured some of the genius puppeteer's best work, had a script by the great Terry Jones, and was executive produced by George Lucas, is being developed.
Fans of the Marvel Cinematic Universe should pay close attention, as Nicole Perlman, who worked on the Guardians of the Galaxy script and who has been tapped to bring Captain Marvel to the screen down the line, will tackle the writing duties. Even though the Labyrinth remake is housed at Sony arm Tri-Star, it's not entirely leaving the family, as Jim Henson's daughter, Lisa Henson, CEO of the Jim Henson Company, will produce.
Bratty teen Sarah, played by a young Jennifer Connelly, runs into problems when she selfishly wishes her baby brother would be taken away by the Goblin King, and then that's exactly what happens. Racing against ticking clock, she must enter the mysterious Labyrinth, deal with all manner of obstacles and peril, and rescue her brother from the clutches of the Goblin King, who also happens to be named Jareth.
Through Labyrinth was a box office bomb upon its initial release, and met with some brutal critical reviews at the time, over the years it has grown into a bonafide cult classic. The intricate costumes, fantastic creature effects, and a fanciful setting all add up to one hell of a time. And David Bowie's eccentric turn helps tie it all together. There are even musical numbers where David Bowie dances with puppets, what's not to love?
What's not entirely clear right now is what exactly this movie will be. It sounds like it will be a reboot of the original, but THR also notes that it could wind up being a sequel of sorts. There was talk of such a move years back, but the Jim Henson Company ultimately decided not to proceed—though the Neil Gaiman-penned MirrorMask was apparently a result of wanting to produce a movie in the spirit of Labyrinth.
This is obviously in the very early stages, but we'll keep you informed as we know more. For now, who do you think should play Jareth the Goblin King? Sound off below.
Your Daily Blend of Entertainment News