Lars Von Trier Has Given Up Nymphomaniac's Final Cut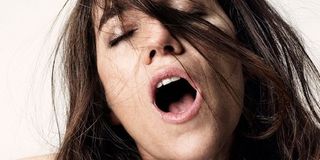 Lars von Trier is a filmmaker typically as uncompromising as he is polarizing. But the Danish director has shocked us in a way we'd never have guessed by giving up the final cut of his two-part erotic drama Nymphomaniac. THR notes this is the first time von Trier has ever surrendered the final cut of one of his films. And though we might rush to assume his producers are pushing for a version that is less provocative or alarming, the creative differences instead come down to running time.
Peter Aalbaek Jensen, von Trier's longtime producer, told Danish cinema magazine Filmmagasinet Ekko that the cut the iconoclast helmer turned in clocked in at a whopping 5 ½ hours. With the December world premiere of the film fast approaching, von Trier gave over his version to be cut down to a more manageable 4 hour cut that will be divided into two two-hour features. Jensen insists von Trier is fine with the move, explaining:
The four-hour version will debut on Christmas day in Copenhagen, Denmark. And while von Trier has signed off on it, he hasn't actually seen it according to Ekko. This is sure to rattle both auteur theory fans as well as fans of von Trier. But it appears no plan is being made at present for the director's cut to hit theaters. Jensen denies claims that it may screen at the Cannes Film Festival next year. But perhaps it will later unspool in full on DVD.
Previous plans for Nymphomaniac included two versions of the film, one hardcore with all the penetrative Frankensteined sex scenes intact, the other a softcore version for those who can't stomach unfiltered von Trier. This plan has since been abandoned. As of now this four-hour version--which Jensen insists does not downplay Nymphomaniac's graphic depictions of sex--is the only version that will have a theatrical release.
This poll is no longer available.
Nymphomaniac stars Charlotte Gainsbourg as the titular woman who retells her long and perverse life story to a stranger who saves her from dying in the street after a brutal beating. Stellan Skarsgard, Shia LaBeouf, Christian Slater, Jamie Bell, Uma Thurman and Connie Nielsen co-star. Magnolia Pictures will release the film in the U.S., but no release date has yet been decided.
Your Daily Blend of Entertainment News
Staff writer at CinemaBlend.