Lars Von Trier Has Frankenstein Plans For Nymphomaniac Sex Scenes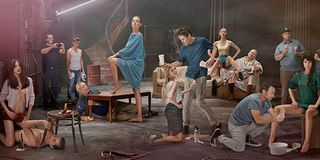 Oh boy. Since Shia LaBeouf signed on to Lars von Trier's two-part hardcore erotic drama Nymphomaniac, there has been much speculation about how the pic's proposed 'real sex' scenes would be created. LaBeouf himself declared that the shooting script carried a disclaimer warning would-be stars that they will be "doing it for real." However, stars performing actual sex acts on screen is still a major taboo. In the director's Anti-Christ the real-sex shown was performed by body doubles, which suggested a similar method might be employed here to save the reputations of the film's stars. But at Cannes producer Louise Vesth has unveiled von Trier's plan for Nymphomaniac's sex scenes, and they are far stranger than we expected.
According to THR, Vesth confirmed that Nymphomaniac will contain sex scenes between members of its star-stuffed cast, including Charlotte Gainsbourg, Stellan Skarsgard, Shia LaBeouf and Uma Thurman. Pressed for whether these actors will actually be having sex or simply acting like they are having sex, she confessed body doubles were used for more penetrating takes. However, it won't be just clever editing that will marry these shots together - CGI composite work will be employed to stitch together simulating stars with sexing body doubles. She explains:
Beyond this sounding sort of horrific, it means someone somewhere can now put "Uma Thurman's vagina" on her acting resume. But all kidding aside, Vesth intimated that the incredible amount of detailed post-production work involved to make this happen is one of the contributing factors to Nymphomaniac not debuting at Cannes (has the ban has been lifted?). Instead, the film will make its world premiere a red carpet gala in Copenhagen ahead of its eyebrow-raising Christmas Day release.
Your Daily Blend of Entertainment News
Staff writer at CinemaBlend.
Your Daily Blend of Entertainment News
Thank you for signing up to CinemaBlend. You will receive a verification email shortly.
There was a problem. Please refresh the page and try again.