Laura Linney Boards Teenage Mutant Ninja Turtles 2, Gives Us The Weirdest Title Of The Day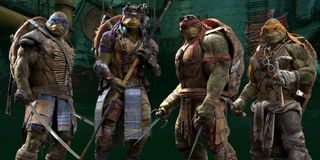 Teenage Mutant Ninja Turtles slyly amassed the rather impressive sum of $485 million last summer, where it was released amidst hits like Dawn Of The Planet Of The Apes, Guardians Of The Galaxy, and 22 Jump Street. This impressive haul meant that a sequel was always going to be ordered, but I don't think that anyone ever envisioned that the eminently watchable Laura Linney would be starring opposite Raphael, Michelangeo, Leonardo, and Donatello.
According to The Hollywood Reporter, Linney has now signed on the dotted line to star in Teenage Mutant Ninja Turtles 2, however, details surrounding her character at this point are being kept a secret. Last week, Paramount Studios confirmed that the iconic villains from the original Teenage Mutant Ninja Turtles cartoons, Bebop and Rocksteady, will be joining the sequel, but even though she is renowned for her dramatic work, it would be quite the stretch for Linney to portray either the warthog or the rhino.
Linney is the latest addition to a constantly improving cast. Megan Fox and Will Arnett were probably the only two good things about the 2014 adaptation, which was roundly chastised because of its poor CGI and clichéd plot and characters. Fox provided a glamour and toughness, while Arnett injected humor into the screen time he was given, both of which stopped Teenage Mutant Ninja Turtles from being a total travesty.
Fox, Linney, and Arnett will appear alongside newbies Stephen Amell, Alessandra Ambrosio, and Tyler Perry, plus William Fichtner will once again be along for the ride. Arrow's Amell has excelled as the lead in CW's adaptation of the much loved DC Comic, Green Arrow, and it will be interesting to see if he can translate his innate likability as Oliver Queen to another beloved character: Teenage Mutant Ninja Turtles 2's Casey Jones – a vigilante who wears a hockey mask to cover his true identity and carries his weapons in a golf bag. Meanwhile, Ambrosio will play Arnett's love interest, the always appreciated tough exterior of William Fichtner once again stars as Eric Sacks, and Tyler Perry looks to see if he can match his sensational turn in David Fincher's Gone Girl as scientist Dr. Baxter Stockman.
But it's still Laura Linney's addition to the ensemble that is the real turn-up for the books. Linney has not only been nominated for three Academy Awards for her roles in You Can Count On Me, Kinsey, and The Savages, but in recent years, she has been more selective with her roles. Clearly something about Teenage Mutant Ninja Turtles 2 appealed to her as an actress. At the moment I can't see what that could possibly be, but maybe by the time Teenage Mutant Ninja Turtles: Half Shell rolls around on June 3, 2016, we'll have a better idea. My first guess is still the money.
Your Daily Blend of Entertainment News
Thank you for signing up to CinemaBlend. You will receive a verification email shortly.
There was a problem. Please refresh the page and try again.