An NBA Star Just Revealed The TMNT Sequel Title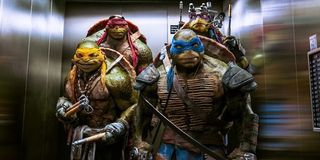 It appears that the proverbial manhole cover over next year's Teenage Mutant Ninja Turtles sequel has been pried open by the most unlikely of sources. LA Clippers guard J.J. Reddick, who, along with a handful of NBA players, has a cameo in the mutagenic mega-sequel, may have just given away some key strategy from his movie team's playbook. Now, thanks to a slip of the tongue, we seem to be privy to the title, Teenage Mutant Ninja Turtles 2: Half Shell.
During an interview on The Lowe Post, Reddick started things off fielding basic pleasantries. About 50 seconds into the interview, the topic shifted to the recently publicized news of his appearance in Teenage Mutant Ninja Turtles 2. Along with Austin Rivers, Matt Barnes, Spencer Hawes, and DeAndre Jordan, he shot a scene at New York's Madison Square Garden. However, it didn't take a banana peel on the basketball court to cause Reddick to slip and spill the beans on the film's title. According to Reddick,
It took Reddick a few seconds to realize the grave error he made, and he further compounded the failure in discretion by clarifying for the host that "Half Shell" follows a colon in the Teenage Mutant Ninja Turtles branding. At that point, Reddick stated, "I'm probably going to get in trouble." Whether or not he's right about that remains to be seen. Yet, with the film's release is a little over a year away, it probably isn't too outrageous for the public to know the title.
As far as names go, it certainly fits within the spectrum of the Teenage Mutant Ninja Turtles franchise. In fact, it was actually integral to the property, since the term "Half Shell" is a key line of the cartoon theme song's chorus, which famously refers to the titular gang as "Heroes in a half shell." Although, for all we know, it may be a more than just the traditional double entendre. Can we dare speculate that there is some plot-specific point, rendering it a deceptively complex title?
At the moment, not much else has been confirmed about this Michael Bay-produced sequel, which traded the first film's director, Jonathan Liebesman, for up-and-comer Dave Green. With William Fichtner seemingly confirming his return, rumors cite the addition of the Turtles' vigilante ally, Casey Jones. Other reports imply that Shredder will be backed by his classic cartoon lackeys, the street-punks-turned-mutated-warthog-and-Rhino, Bebop and Rocksteady, along with the mad scientist Baxter Stockman.
Casting-wise, there are rumblings that Victoria's Secret supermodel, Alessandra Ambrosio, will play an out-of-his-league love interest for Will Arnett's Vernon Fenwick. While the rest of the primary cast of Megan Fox, along with the motion-captured Turtles themselves, Alan Ritchson, Noel Fisher, Pete Ploszek, and Jeremy Howard are all expected to return, confirmations have been mum. Nevertheless, our favorite amphibious anthropomorphic martial artists are set to return in some form or another in Teenage Mutant Ninja Turtles 2: Half Shell, hitting theaters on June 3, 2016.
Your Daily Blend of Entertainment News
Thank you for signing up to CinemaBlend. You will receive a verification email shortly.
There was a problem. Please refresh the page and try again.