Lead Actress Natalie Mendoza Leaves The Spider-Man Musical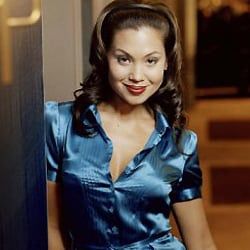 Even more bad news is coming for the Broadway musical Spider-Man: Turn Off The Dark, if you can believe it. Natalie Mendoza, the lead actress playing the villainess Arachne who was injured backstage by a piece of falling equipment in late November, is preparing to drop out of the play. According to The New York Times the news isn't yet official, as "lawyers and others are still fine-tuning the language to explain Ms. Mendoza's departure," but they're expecting an official statement as early as Tuesday.
Mendoza spent two weeks off the stage following the concussion she suffered on November 28, but she was back onstage for the December 20 performance when Christopher Tierney, a stunt performer who also plays Spider-Man, took a nasty fall near the end of that night's performance. The production halted for a few days to tweak safety measures, but Mendoza has been on medically advised vocal rest since then. She posted the following message to her Facebook page the night of Tierney's accident: "Please pray with me for my friend Chris, my superhero who quietly inspires me everyday with his spirit. A light in my heart went dim tonight."
They're expecting her understudy America Olivo to take over the part, given that she's been playing it regularly for a while now in Mendoza's absence. It's shocking and unusual for a lead actress to bail on a production before it's even out of previews, but pretty much everything else about Spider-Man: Turn off the Dark has been shocking and unusual, so at this point nothing should surprise it. Especially given that Mendoza was injured, and is still taking painkillers, I can't blame her for wanting to get out of this production before something even more dangerous happens.
The real question now is how Turn Off The Dark, plagued by bad publicity in addition to all of these accidents, can move forward to its planned February 7 premiere. People are still buying tickets with hopes of seeing a trainwreck, but is that appeal enough to help this mammoth production actually turn a profit? Even if you're not interested in theater or Spider-Man, this is a spectacle that's consistently fascinating to witness.
Staff Writer at CinemaBlend
Your Daily Blend of Entertainment News
Thank you for signing up to CinemaBlend. You will receive a verification email shortly.
There was a problem. Please refresh the page and try again.