Leighton Meester Out Of Veronica Mars Movie, But See Ken Marino's Return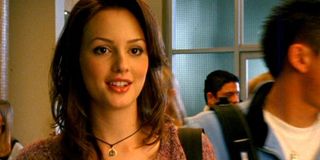 Veronica Mars Rob Thomas creator has been doing an impressive job wrangling the show's far-flung cast six years after its cancellation for its long hoped for movie. Unfortunately, Leighton Meester, who played classmate Carrie Bishop in a pair of episodes, won't be back for the Veronica Mars movie, though her character will be. THR reports Thomas has told his Kickstarter contributors that Meester's busy shooting schedule clashes with Veronica Mars'. So, Andrea Estella, lead singer of the band Twin Sister, is taking over the role. Thomas is regretful about the decision, stating, "Sadly, Leighton was doing a different movie during the same time frame on the wrong coast. In the end, she was unavailable."
Estella will be making her film debut in Veronica Mars, and was largely cast because Thomas needed someone who could sing in the pivotal part. Having already decided that Twin Sister would have a couple of tracks in the film's soundtrack, casting Estella seemed an obvious leap to make. Though she'd never seen an episode of the cult-adored series before being cast (gasp!), Estella wrote she has since seen the pilot and "was totally into it!"
On the show, Bishop was a notorious gossip who had Mars on her case once she claimed to have been seduced by Veronica's favorite teacher, Mr. Chuck Rooks (played by Adam Scott). Devotees of the show might remember Bishop was lying, but for a good (well, understandable) cause. Turns out her, best friend Susan Knight (Christine Larkin) was the one Rooks wooed, bedded, then left…pregnant. Knight didn't dare press charges, so Bishop did once she saw Rooks was on the prowl for new impressionable students. Thomas's update e-mail notes Larkin will reprise her role, but no mention is made whether or not Scott will be back.
However, much of the original cast of the show that ran for three seasons will return, chief among them Kristen Bell in the title role. Also back are Ryan Hansen, Enrico Colantoni, Jason Dohring, Percy Daggs III, Francis Capra, and Ken Marino, who played sleazy detective Vinnie Van Lowe. In an new image released just before Veronica Mars tears into Comic Con, Marino and Bell can be seen as Van Lowe and Mars, though what mischief they are up to remains a mystery. Image courtesy of Entertainment Weekly.
While Meester won't be able to reprise her role in the Veronica Mars movie, there's still a way she could appear. Rumor has it that some stars--like James Franco and Kristen Bell's real-life beau Dax Shepard--might be popping up in cameo roles as themselves. Could Meester find time in her schedule to pop in that way? We'll have to wait and see.
Veronica Mars is now in production in Los Angeles. For a taste of what's to come, check out Twin Sister performing "I Want a House," a track Thomas admitted to listening to as he penned the screenplay.
Staff writer at CinemaBlend.
Your Daily Blend of Entertainment News
Thank you for signing up to CinemaBlend. You will receive a verification email shortly.
There was a problem. Please refresh the page and try again.