Leonard Nimoy Has Attended His Last Star Trek Convention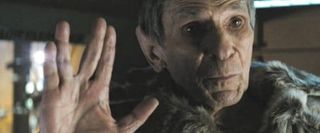 Every member of the original Star Trek cast will probably be forever associated with those roles above any other, but few have been as closely associated with it as Leonard Nimoy, who became an American icon with his portrayal of the Vulcan Mr. Spock. Not only was Nimoy game for a major role in J.J. Abrams' Star Trek film that helped link the two film universes, but he's had a lot to say about his iconic pointy-eared status, even writing two differently titled memoirs, one called I Am Not Spock, the other I Am Spock.
But while Nimoy's enthusiasm for all things Trek may never fade, he is 80 years old, and there's only so much you can do at a certain point. He's already announced his retirement, claiming he won't return as Spock in the upcoming Star Trek sequel, and now he's stepped away from something maybe even more important-- Star Trek conventions. According to CBS News Nimoy attending his last Trek convention over the weekend in suburban Chicago, speaking to the crowd for about an hour and signing off with the Vulcan salute and, of course, "Live long and prosper."
Even though he won't be part of the conventions going forward, there are still thousands if not millions of Trek fans who can fondly remember Nimoy attending their conventions, and that counts for a whole lot. To remember the good old days, cheek out this video of Nimoy addressing the crowd at the Las Vegas Trek convention last year. You can tell he's not just a great storyteller and entertainer, but that he really is among his people. I've never even attended a Trek convention, but I think I'll probably miss him there too.
Staff Writer at CinemaBlend
Your Daily Blend of Entertainment News
Thank you for signing up to CinemaBlend. You will receive a verification email shortly.
There was a problem. Please refresh the page and try again.