Leonard Nimoy As Mission: Impossible 4's Master Of Disguise?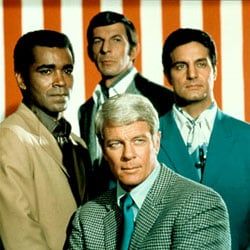 Leonard Nimoy is almost certainly done with Star Trek. JJ Abrams' film gave him the perfect sendoff and it's highly improbably that we'll ever see him in Spock's logical ears again. He said as much earlier this week to THR. But that doesn't mean his career on film is over. It doesn't even mean he's done reprising famous television roles.
Abrams' recently told Collider that he's considering giving Leonard Nimoy a part in the upcoming fourth Mission: Impossible. Star Trek wasn't Nimoy's only foray into iconic television franchises. He was actually a part of the original Mission: Impossible television series, and appeared on the show for three years from 1969 – 1971 as a master of disguise named "The Amazing Paris".
Nimoy wasn't the only famous face on the original Mission: Impossible cast. Martin Landau and Sam Elliot also had significant roles. Abrams expressed definite interest in bringing someone back from the show for Mission Impossible 4, and in addition to Nimoy mentions talking to Peter Graves. Apparently he tried to do the same thing with Mission: Impossible 3. Abrams says, "I actually tried to get Martin Landau in Mission 3, in a very small little moment just for fun, and was told that he had no interest in doing it."
Your Daily Blend of Entertainment News