Leonard Nimoy's Son Is Making A Documentary About Spock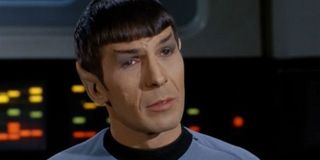 It's been a little over a month since the loss of Leonard Nimoy, and the wound still feels quite exposed. The beloved actor and artist touched fans with not only his acting and portrayal of Spock in the Star Trek franchise, but also with his beautiful words of acceptance beyond the screen. It is because of his expansive fan base and inspiration that a documentary about Nimoy's life and the character whom he brought to life took fruition. And no better person to produce and direct the film than Nimoy's own son, Adam Nimoy.
The project hopes to help celebrate the 50th anniversary of the cult-classic sci-fi franchise which aired for the first time on September 8, 1966. According to Variety, Adam Nimoy announced his plan for the documentary last week to pay tribute to the Vulcan hero. Nimoy told Variety:
Young Nimoy's project is also something that him and his father had previously discussed several months before the actor's passing. They agreed that it would focus on the enduring nature of Spock and Nimoy's personal portrayal of the logical Vulcan-human first officer. Adam Nimoy discussed the extensive material they have to take from for the doc including the two books Leonard Nimoy wrote, I Am Not Spock and I Am Spock as well as a number of recordings. The late Nimoy was suffering from chronic obstructive pulmonary disease, but had continued working on this project with his son up until about two days before his death.
Zachary Quinto who has played a newer version of Spock in the last two Star Trek films is signed on to narrate the documentary. And William Shatner, who played captain of the Enterprise, James T. Kirk, and is also a dear friend of Nimoy has agreed to appear in the doc.
As far as those behind the project. David Zappone, the president and owner of 455 films will produce. He has produced a number of Star Trek-related content including The Captains, William Shatner's Get a Life and Still Kicking. The younger Nimoy has extensive history in the entertainment industry as well, starting as an attorney in entertainment law only to soon become a TV director directing episodes in shows such as NYPD Blue, The Practice, Ally McBeal and Gilmore Girls. He also wrote an autobiography entitled, My Incredibly Wonderful, Miserable Life.
The documentary still seeks financing, and Nimoy said he wouldn't be opposed to starting a crowdfunding option. If this plans to release around the 50th anniversary though, we can expect it in 2016.
Your Daily Blend of Entertainment News
Thank you for signing up to CinemaBlend. You will receive a verification email shortly.
There was a problem. Please refresh the page and try again.