17 Touching Celebrity Responses To Leonard Nimoy's Death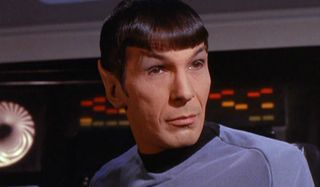 Tragic news broke today when beloved actor Leonard Nimoy died at age 83, and the world came together to collectively mourn the icon's passing. Nimoy, most known for his role as Spock in the Star Trek franchise, was a figure who touched and inspired many, and his legacy will forever 'live long and prosper'.
The actor's character extended from himself, and fans saw him as a profound and inspirational figure who knew what it meant to feel alien in your surroundings. Though Nimoy was much more than just Spock, it was his constant reprisal of the character and incredible portrayal throughout the franchise that will be most remembered. His character, and his career would impact many, and today, his biggest celebrity fans pay tribute to the man via Twitter who has been, and always shall be… our friend.
William Shatner, Nimoy's longtime co-star and dear friend opened up on the death of his colleague.
Patrick Stewart remembers his time with the inspirational man.
A friendship bloomed on Star Trek Into Darkness between the original Spock and his successor, Zachary Quinto.
George Takei remembers his dear friend from the USS Enterprise.
Another Star Trek star, Marina Sirtis recalls what a true gentleman Nimoy was.
Kim Cattrall remembers the man who was her mentor.
Wil Wheaton shares his gratitude for the galaxy that Nimoy passed down.
Jonathan Frakes salutes Mr. Nimoy.
Seth MacFarlane thanks Nimoy for his work in bringing alive one of the greatest characters in American storytelling.
Kevin Smith says farewell with a memorable quote.
Harry Potter author JK Rowling pays tribute in her own way.
Even President Obama made an official statement recalling his own admiration for Spock and the man behind the character.
And NASA recognizes Nimoy and his time with the cult-classic franchise as the inspiration behind many's desire to explore space.
Specifically, Chris Hadfield, the first Canadian to walk in space, shares his gratitude.
And plenty more actors remember the lasting effects that Leonard Nimoy and Mr. Spock have had on the entertainment industry and beyond.
And in Leonard Nimoy's last tweet before his passing, he reminds us that memories are what live on. So with that, our memories of him, will live long and prosper.
Your Daily Blend of Entertainment News