William Shatner's 8 Most Touching Tweets In Memory Of Leonard Nimoy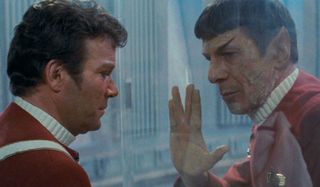 This week the world came together with a Vulcan salute as we said goodbye to beloved actor and lover of the arts, Leonard Nimoy. And among the tears shed for the actor were those of William Shatner, Nimoy's longtime co-star and friend. Today marked Nimoy's funeral, and because of a commitment to a fundraiser event, Shatner was unable to attend the funeral, so he decided to have his own memorial via Twitter.
Shatner had taken some harsh criticisms from news outlets for missing his fellow Star Trek stars funeral service, so in response Shatner shared memories and fielded questions from fans to commemorate his friend in a way he saw fit. Kind words, and caring messages were said about the late actor, and Shatner displayed his affection and regret for being unable to attend the service. Here we've compiled some of his most touching tweets from the "Twitter Funeral" exchange that play special tribute to the man who inspired so many.
Shatner shared his finest memories of Nimoy.
And the life lessons they learned from each other.
The best thing that Nimoy ever gave him.
And the best thing that he ever said.
Shatner shared what he thought were Nimoy's most admirable qualities.
And the only regret he has of their relationship.
He even touched upon the actor's similar characteristics to his most beloved character.
But best of all, Shatner paid respect to his dear friend. And the favorite role that he ever played.
Your Daily Blend of Entertainment News