Leonardo DiCaprio Could Play Math Wizard Alan Turing For Warner Bros.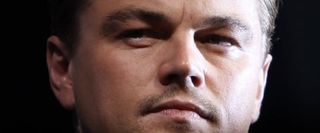 Leonardo DiCpario's never been in danger of being pigeonholed as an actor. The versatile talent easily transitions from role to role, whether he's playing a con artist (Catch Me If You Can), a brilliant entrepreneur (The Aviator) or an undercover agent (The Departed). So as he prepares the play a vicious plantation owner in Quentin Tarantino's Django Unchained, it's no real surprise that the A-lister's lining up a future project the sounds completely different.
DiCaprio is keen to play Alan Turing for Warner Bros., according to Deadline. Don't feel bad if you didn't know Turing was a math genius, a numbers wizard used to crack enemy codes in WWII. DiCaprio reportedly has been chasing down the man's life story, and first-time screenwriter Graham Moore has penned a treatment that Warner grabbed for DiCaprio to headline. Deadline adds that Ron Howard might be interested in directing, but that man has a slew of projects on this plate, so take that with a grain of salt.
Moore's script, titled The Imitation Game, is earning raves. The man's life is a tragedy. For those who don't know, he was a tortured soul torn apart by his closeted homosexuality. That immediately calls to mind DiCpario's next role, J. Edgar Hoover, also for Warner. But Turing's story – which doesn't end well – is drawing comparisons to A Beautiful Mind and The King's Speech Just potentially more depressing. In the right hands, and with DiCaprio in the lead, The Imitation Game has Oscar potential. But a lot can happen between purchased-script and finished film. We'll keep you posted on details as they emerge.
Movie junkie. Infatuated with comic-book films. ReelBlend cohost. Resident dad. Extroverted introvert. Wants to see the Snyder Cut. Managing Director at CinemaBlend.
Your Daily Blend of Entertainment News
Thank you for signing up to CinemaBlend. You will receive a verification email shortly.
There was a problem. Please refresh the page and try again.