Leonardo DiCaprio To Play A Martial Arts Expert In Potential Spy Franchise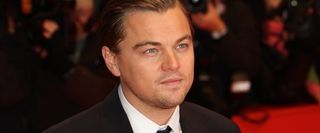 Leonardo DiCaprio doesn't always wind up starring in great movies-- Body of Lies was a total dud, and Blood Diamond a little less than great-- but he's got probably the highest batting average of any actor working in the last decade. Part of it is that he's constantly seeking out marquee directors to work with, from Clint Eastwood to Sam Mendes to his buddy Martin Scorsese, and part of it is that he has the power to pick good movies for himself, and he uses it. Soon he'll be starring as J. Edgar Hoover in Eastwood's titular biopic, then starring in another titular role in Baz Luhrmann's The Great Gatsby, and then he's turning villainous for Quentin Tarantino in Django Unchained. And after all that, he'll head to Japan to give himself a little break.
Deadline reports that Warner Bros. has picked up Don Winslow's novel Satori specifically as a vehicle for DiCaprio as a man raised by a martial arts exert in Japan and caught in the country's post-World War II turmoil. It's a globetrotting thriller involving martial arts skills, secret government agencies and even the Corsican mob, and the studio reportedly sees it as a potential "Jason Bourne-type action franchise." That's a buzzword that inevitably has to be tossed around any time anyone makes a spy thriller, but still, it seems especially relevant in this case.
Then again, DiCaprio has never really seemed to be a franchise kind of guy-- that would get in the way of him filling out his Great Living Director Bingo Card, don't you know. But who knows what kind of a change he might be up for if Satori turns out well. The only predictable thing about DiCaprio for the last 10 years has been his good taste in movies, so really, it seems crazy to assume anything about what he'll be doing 3 years from now. Are you guys ready to see him as the white martial arts hero you never knew you wanted?
(Image via cinemafestival (opens in new tab) / Shutterstock.com (opens in new tab))
Staff Writer at CinemaBlend
Your Daily Blend of Entertainment News
Thank you for signing up to CinemaBlend. You will receive a verification email shortly.
There was a problem. Please refresh the page and try again.