Let's Be Cops Red Band Trailer: With Fake Authority Comes Great Debauchery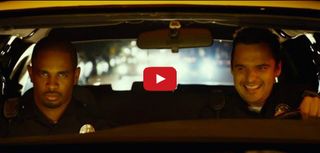 In real life, crime doesn't pay. But in the movies, it's a red-band riot. Such is the case with Let's Be Cops, the new comedy starring The New Girl actors Jake Johnson and Damon Wayans Jr. That's the nasty-ass red-band trailer for the film, so cover your childrens' eyes and ears, because they might learn something awesome.
The story finds two pranksters who discover that everyone thinks their store-bought police uniforms are real while on their way to attend what they believe to be a costume party. Cue endless freebies, consequence-less sex, and tons of bad behavior. One of these instances involves branding a white car with a cop logo and driving around town threatening kids. It's really hard to see how this doesn't end in a hail of bullets. If you don't like all those bad words, you can also enjoy the new green band trailer from Yahoo as well, found below.
The film comes courtesy of director Luke Greenfield, a comedy vet who made an inauspicious debut with Rob Schneider's The Animal back in 2001. His second film, the much-stronger The Girl Next Door, earned him a bit more respect in Hollywood and he's worked steadily since. He was also, curiously, the original director on a PG-13 movie called Big Brothers. Apparently material was shot, but the film shut down to rework it as an R-rated movie under a new director, David Wain. That film became Role Models, and while it's plenty funny, we remain curious as to whether there are any remnants of Greenfield's film out there.
I can't say Let's Be Cops looks all that funny, but I'm certainly curious about it. For one, James D'Arcy seems to be playing a very blinged-out thug, which is bizarre enough to get me into a theater. For another, Johnson and Wayans make a strong team on the The New Girl. Johnson's skills will next be seen in Jurassic World, while Wayans Jr. has been upgraded to full-time cast member on the aforementioned Fox sitcom despite previously being just a recurring member of the ensemble. One of them could very well break out in this film, particularly if audiences responded to the trailer for this film slapped in front of the very-similar looking 22 Jump Street. Let's Be Cops hits theaters August 13th.
Your Daily Blend of Entertainment News
Thank you for signing up to CinemaBlend. You will receive a verification email shortly.
There was a problem. Please refresh the page and try again.