Liam Hemsworth And Isla Fisher Join Kate Winslet For The Dressmaker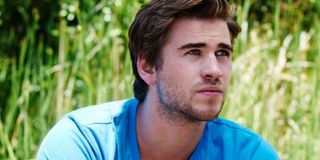 This fall Liam Hemsworth is set to hit theaters with the guaranteed blockbuster The Hunger Game: Mockingjay - Part 1. But he's already looking past the Hunger Games series with an eye to his homeland and an enchanting drama called The Dressmaker.
Variety reports out of Cannes that Hemsworth has signed on to co-star in The Dressmaker opposite Academy Award winner Kate Winslet. Also joining the cast are Aussie actresses Judy Davis (Husbands and Wives), and The Great Gatsby co-stars Isla Fisher and Elizabeth Debicki. As you may have gathered, The Dressmaker will be an Australian production. Melbourne-born director Jocelyn Moorhouse will helm.
Based on the Rosalie Ham novel of the same name, The Dressmaker centers on Tilly, a fiery woman with a dark past and a passion to win sweet revenge. Set in the 1950s, the film will follow Tilly's return to her rural Australian hometown after years away, following her flight after being accused of murder as a child. Returning, she's hoping to make amends with her unorthodox mother. But Tilly's natural flare for fashion--in particular the haute couture styles of Madame Vionnet and Balenciaga--make her a subject of fascination and inspiration for the local women.
Is it just me, or does this last bit sound a like To Wong Fu Thanks for Everything, Love Julie Newmar?
Kate Winslet is slated to play Tilly, also known as Myrtle Dunnage. Judy Davis will play mama Molly Dunnage, and it seems Liam Hemsworth will play the love interest of Winslet. Jocelyn Moorhouse, who also wrote The Dressmaker's adapted screenplay says of the casting:
The area in front of the camera isn't the only place Moorhouse has filled incredible talent. She's also hired Moulin Rouge cinematographer Don McAlpine, Moulin Rouge editor Jill Bilcock, costume designer Tim Chappel of The Adventures of Priscilla, Queen of the Desert, and Chronicles of Narnia production designer Roger Ford. So expect The Dressmaker to be an extraordinary spectacle.
The Dressmaker will begin principal photography in Australia this October, with a likely 2015 release to follow. In the meantime, look for Liam Hemsworth in The Hunger Game: Mockingjay - Part 1.
Staff writer at CinemaBlend.
Your Daily Blend of Entertainment News
Thank you for signing up to CinemaBlend. You will receive a verification email shortly.
There was a problem. Please refresh the page and try again.