The Light Between Oceans Trailer Looks Romantic And Heartbreaking, Watch It Now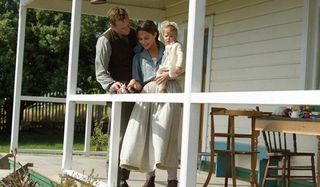 Anyone who wants to have a good cry needs to look no further. Because the first trailer for The Light Between Oceans will have you weeping uncontrollably as it's just so gosh-darn romantic and heart-breaking. That's what happens when you have actors of the caliber of Alicia Vikander and Michael Fassbender starring opposite each other as a couple that are beset by tragedy. So just grab some tissues, prepare yourself to bawl, and then click play on the trailer for The Light Between Oceans below.
I'm not crying. You're crying! Also, is it just me or is the cast for The Light Between Oceans arguably the most beautiful that's ever been assembled? I mean, Michael Fassbender is clearly a dishy individual, while Rachel Weisz and Alicia Vikander are so gorgeous to look at that if they'd been born centuries ago, countries probably would have gone to war over them.
Obviously it also helps that the above trio are all preposterously talented actors, too, and their dramatic heft and staggering ability will make The Light Between Oceans a powerful watch. Heck, just the 2 minute and 25 seconds of The Light Between Oceans' trailer featured numerous moments that immediately resonated. Audiences will also probably be slightly intrigued by the film because Michael Fassbender and Alicia Vikander are now actually in a relationship, which they have kept fiercely private.
Based on M.L. Stedman's novel of the same name which was released back in 2012, The Light Between Oceans is set just after World War I, and it has its name because Michael Fassbender's Tom Sherbourne works as a lighthouse keeper off the coast of Western Australia.
Sherbourne lives in the lighthouse alongside his wife Isabel, played by the recent Oscar recipient Alicia Vikander (The Danish Girl). But their marital bliss is blighted by the fact that she's unable to have a child. However, one day, the couple rescue a baby girl that's on-board a stricken rowboat. They decide to adopt her as their own, but complications arise several years later when Rachel Weisz's Hannah Roennfeldt arrives on the mainland, and it's revealed that she could be the girl's biological mother.
The Light Between Oceans was met with positive reviews upon its book release and, with a talented cast as well as the writing and directing exploits of Blue Valentine and The Place Beyond The Pines' Derek Cianfrance involved, everything is in place for the film adaptation to do the novel justice. We'll see if that's the case when The Light Between Oceans is released on September 2, 2016.
Your Daily Blend of Entertainment News
Thank you for signing up to CinemaBlend. You will receive a verification email shortly.
There was a problem. Please refresh the page and try again.