Lily Collins And Sam Claflin Team Up For Love, Rosie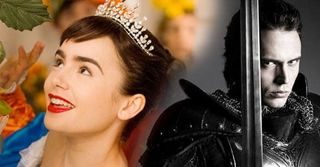 Last year both Lily Collins and Sam Claflin got career boosts thanks to new takes on the tale of Snow White. However, Collins did so opposite Armie Hammer in Mirror Mirror, while Claflin tried to romance the dour princess played by Kristen Stewart in Snow White and the Huntsman. Now these two rising stars will get to shine together in Love, Rosie, a story of love and friendship between two childhood friends.
The romantic comedy's source material is the novel (alternately known as Where Rainbows End, Rosie Dunne, or Love, Rosie) by Cecelia Ahern, creator of the quirky amnesia comedy series Samantha Who? and author of P.S. I Love You. Deadline reports Love, Rosie will star Collins and Claflin as Rosie and Alex, two Irish best friends who plan to move to the U.S. together for college—that is until Rosie gets pregnant after a wild fling with a popular schoolmate. From there, the two take divergent paths, but never lose touch thanks to lively e-mails, notes and letters they exchange no matter what life brings.
Calendar Girls scribe Juliette Towhidi has adapted the epistolary novel in what is likely to be a bubbly screenplay that blends comedy, romance and drama. Christian Ditter, helmer of German family adventures like The Crocodiles and Vicky and the Treasure of the Gods, will direct, making his English-language debut.
I have mixed feelings on this news. Personally, I adored Mirror Mirror and Collins in particular. I found her charismatic and deftly able to handle the film's whimsical tone and kinetic action sequences. So, I'm eager to see more of her. Claflin, on the other hand, bores me to tears. I found him totally forgettable in Snow White and the Huntsman as the princess's lackluster love interest, and personally lamented his being cast as the arrogant but undeniably sexy Finnick Odair in The Hunger Games: Catching Fire. Sure, he's handsome, but am I the only one that thinks he lacks dimension and screen presence?
Love, Rosie will begin shooting this May.
Your Daily Blend of Entertainment News
Staff writer at CinemaBlend.