Lily James Isn't Too Skinny To Play Cinderella, According To Lily James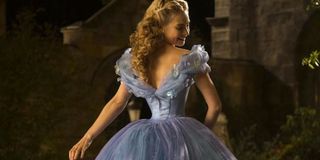 What's been seen of Disney's upcoming Cinderella has left quite a lot to talk about. However, certain scenes appear to highlight a glaring physical attribute about the film's star in the gorgeous ingénue, Lily James: Her shockingly skinny waistline. The depiction of James' Cinderella -- especially in the story's famed ballroom dress -- does, indeed, present eye-catching imagery. However, the star has come out to defend herself against the typical accusations against women that usually accompany apparent skinniness.
In an interview with E! Online, James attempts to make clear that those glass slippers she's rocking in the film are supporting more weight than they seem. In fact, James makes the point, emphatically, that she is NOT too skinny for her role and that she does, in fact, eat like a normal human being…honest. As James states,
The controversy over Cinderella's depicted waistline is somewhat of a contemporary culture clash. James has told The LA Times that, "I naturally have a really small waist." However, some critics have been using social media to accuse James of promoting an unhealthy body image to impressionable young girls who see the film. Yet, James has fired back at her critics in the L.A. Times interview, saying that it's "all very hypocritical," pointing out that detractors are "drawing more attention to it."
Lily James would further defend the images of her dramatically small waistline in the interview with E! Online by highlighting the fact that the famous blue ball gown in question required her to wear a ridiculously tight corset. For what it's worth, such a thing would be required for the sake of some semblance of verisimilitude in the film's quasi-historical backdrop. In fact, James tells a less-than-glamorous story of her experiences in the blue-ball dress' dreaded corset, and the unpleasant liquid diet that it required in order for her to fit into the thing. While things won't go as badly as they did on Game of Thrones for her Prince Charming co-star in Richard Madden, he apparently had an experience that would alter anyone's perception of Cinderella. As James candidly confesses,
Thus, Lily James is at least attempting to proliferate the idea that the emaciated imagery of that ballroom dress was not meant to convey illusions of idealism to be emulated amongst the film's young female demographic. Perhaps such an idea will be better conveyed in the actual film, with moments of levity during the ball scene not unlike the one she described, pointing out how tightly packed she really was under that dress? We will know soon enough!
The Kenneth Branagh-directed Cinderella will take the timeless fairy tale and give it a dramatic, stylistic refurbishing that we hope is designed to reflect modern sensibilities of what a female protagonist should be. Perhaps, by burping V8 in the face of the King in the North? We'll find out when it hits theaters on March 13.
Your Daily Blend of Entertainment News
Your Daily Blend of Entertainment News
Thank you for signing up to CinemaBlend. You will receive a verification email shortly.
There was a problem. Please refresh the page and try again.