Thor Director Kenneth Branagh Doing More Marvel? Here's What He Said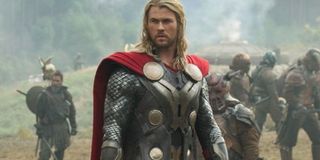 Directing, or for that matter, starring in a Marvel film isn't always the fairy tale fantasy some of us would imagine it to be. It's a lot of hard work, and even Joss Whedon has said he most likely won't return to helm Avengers: Infinity War. But what about some of the filmmakers of Marvel's past? Kenneth Branagh, the man who directed the first Thor movie, was asked about whether he'd ever return to the MCU, and he seems game for it.
In an interview with The Hollywood Reporter at the Berlin Film Festival to promote Cinderella, he said:
If you think about it, the only directors who have led or will lead more than one Marvel movie are Whedon (the Avengers films), Jon Favreau (Iron Man and Iron Man 2), Joe and Anthony Russo (Captain America: The Winter Soldier, Captain America: Civil War and rumored for Infinity War), and James Gunn (Guardians of the Galaxy and the 2017 sequel). It's one thing for a director to want to return to the superhero fray, but obviously Marvel has to back them. Based on the studio's track record, they only re-enlist those who've proven to have struck box-office gold. Even Favreau didn't return after the disaster that was Iron Man 2, though, in his defense, that had more to do about how Marvel heavily interfered with the film.
As for Branagh, he was by all accounts asked back to direct Thor: The Dark World. In public, he said he just couldn't find time to fit a commitment of this nature into his schedule, though THR cited creative differences as the reason he chose not to return. This is not an uncommon occurrence when it comes to Marvel. Monster helmer Patty Jenkins was also given the position but she too passed over the same reason, while more recently Edgar Wright dropped out of Ant-Man. This can happen when Marvel has such a clear trajectory for its films, which will slowly but surely lead all the way up to the events in Infinity War. However, it still says good things that Branagh is on friendly terms with the comic book movie giant.
As Chris Hemsworth told The LA Times of Branagh's departure from The Dark World, the actor was very disappointed to see the man go, as he learned most of what he knows today about the lightning-wielding Asgardian from him. Perhaps one day they will meet again. As we reported earlier, Thor: Ragnarok needs a director.
Your Daily Blend of Entertainment News