Lindsay Lohan Strips On Video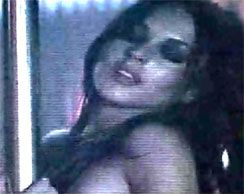 Sony has been running a really creepy and completely weird video blog on their official site for the upcoming Lindsay Lohan movie I Know Who Killed Me. The blogs feature a cryptic narration from a freaky, would-be-stalker layered over what are, presumably grainy scenes from the film.
Sony however, realizes that the only reason anyone is interested in this movie is because Lindsay is playing a stripper in it. It's not pretty, it's not classy, but there it is. So, in their latest batch of video blogs they've added Lindsay Lohan stripping footage. At least they're being honest. Click here and scroll to the last video blog to watch Lindsay work the pole.
In I Know Who Killed Me, Lohan plays Aubrey Fleming, a bright and promising young woman, is abducted and tortured by a sadistic serial killer. When she manages to escape, the traumatized girl who regains consciousness in the hospital insists that she is not who they think she is and that the real Aubrey Fleming is still in mortal danger. Look for it in theaters July 27th.
Your Daily Blend of Entertainment News