Logan Lerman Being Looked At For Spider-Man Reboot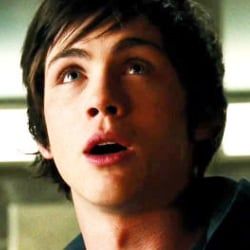 Anyone with a passing familiarity with tabloids and upcoming movie trailers probably could have guessed that 18-year-old Logan Lerman, star of Percy Jackson and the Olympians: The Lightning Thief, would show up on the casting shortlist for the Spider-Man reboot. Now Access Hollywood is the first one to get confirmation. Lerman admitted to Billy Bush that "there have been a few discussions" about the Peter Parker role, and "it's definitely something I'm looking into."
Not sure if Lerman is just too fresh to know that keeping silent on such matters is usually protocol, or if this means he's pretty far along in the discussion, but he seems like a pretty good pick either way. Fresh-faced and young, with a potential star-maker coming up in Percy Jackson. Only problem, of course, is that the Percy Jackson movie is just the start of what's intended as a large and expansive series, and casting one actor in two separate franchises typically doesn't work out that well.
He's kind of in a no-win situation, really. If Percy Jackson tanks, it frees Lerman up to be Spider-Man, but then he's the start of a failed movie. If it's a hit, Lerman will be stuck throwing lightning bolts for the next eight years. Is there some kind of happy middle ground, in which Percy Jackson is a moderate success but not a burgeoning franchise, in which Lerman gets to play Spidey? Who knows, but I'm betting that's what Lerman is hoping for.
Staff Writer at CinemaBlend
Your Daily Blend of Entertainment News
Thank you for signing up to CinemaBlend. You will receive a verification email shortly.
There was a problem. Please refresh the page and try again.