Lupita Nyong'o, Forest Whitaker And Rachel McAdams Join Boxing Drama Southpaw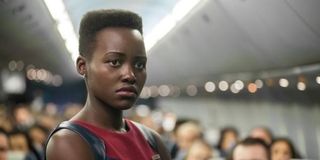 After years of development, Southpaw is finally coming out to play. The boxing drama once courted Eminem before landing Jake Gyllenhaal in the lead, and now director Antoine Fuqua is going about filling out the cast. And would you believe he's enlisting People Magazine's Most Beautiful Person In The World, queen bee Regina George, and Ghost Dog?
Deadline reports that Southpaw is in talks with representatives to add Oscar winners Lupita Nyong'o and Forest Whitaker as well as Rachel McAdams to the project. Gyllenhaal is playing a welterweight boxer who has fallen on hard times and succumbs to substance abuse as his career spills down the drain. In true Hollywood fashion, he finally finds the strength to return to the ring and compete. Spoiler? Eh.
Whitaker, soon to be seen in Taken 3: Tooken To The Limit, looks to be playing Totus "Tick" Willis, a former champion who attempts to become a trainer but opts out after the tragic death of his child. Juicy stuff for Whitaker to bite into, which isn't unexpected: Southpaw screenwriter Kurt Sutter was on the writing staff for The Shield during Whitaker's run as Lieutenant Jon Kavanaugh.
McAdams will be playing the lead female role, who I'll guess has a romance, and will possibly be marred to the screwed-up boxer played by Gyllenhaal. Nyong'o will be playing a social worker who cares for Gyllenhaal's daughter, who presumably he keeps putting in harm's way with his reckless behavior. Love triangle? How about a love triangle, guys? Nyong'o might have the Oscar, but Hollywood insists on refusing to break from tradition here, ignoring the fact that Nyong'o is way too gorgeous to just be a social worker. Hopefully there's something good for Nyong'o to do, but she's been fairly picky since taking home the little gold man.
Director Fuqua looks to be spending a bit of his goodwill to get this project made. His last movie was the hit Olympus Has Fallen, which is soon to receive a sequel, London Has Fallen, though Fuqua has Fuqua'd off that follow-up. His next film is The Equalizer, a reunion with Denzel Washington that is very much expected to be a hit. Fuqua and Sutter have been trying to get Southpaw off the ground with a number of lead acting candidates, and it took Fuqua's hit-making to make it possible.
Whitaker has got a number of smaller films coming up, though it's expected he'll direct himself in the upcoming faith-based The Shack. McAdams has a busy slate as well: she'll appear in this summer's A Most Wanted Man as well as new movies from Wim Wenders and Cameron Crowe. Nyong'o, meanwhile, may show up in crime thriller Who Shot The Sheriff and is set to record voicework for the upcoming The Jungle Book.
Your Daily Blend of Entertainment News
Thank you for signing up to CinemaBlend. You will receive a verification email shortly.
There was a problem. Please refresh the page and try again.