MPAA Gives Bully Sought After PG-13 Rating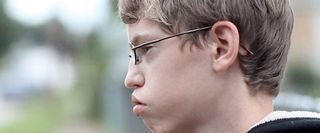 After a much-publicized battle with the Motion Picture Association of America, The Weinstein Company announced that their controversial documentary Bully has finally won the PG-13 rating for which the filmmakers has repeatedly pleaded. Previously, Harvey Weinstein had called on celebrity supporters to help overturn the film's R-rating--assigned for language deemed inappropriate for children--before releasing the documentary without a rating, which could hurt its theatrical outreach.
Though, in the end, it wasn't the big names who attested to the film's powerful message, or the high schooler-started petition that went viral, or even Weinstein's threats to reject the MPAA's traditional but not required approval that caused Bully's rating change. After all of that, it was a new edit of the film that trimmed out three uses of the word "fuck." But don't misunderstand me, without all that came before it's unlikely even this would have satisfied the mysterious members of the MPAA.
The MPAA was bullheaded at every turn of this debate, insisting that their ratings are meant as a guide for parents, and that parents would object to their children hearing so much profanity in a PG-13 movie. However, the filmmakers asked that a special consideration be made for Bully since the crude language in the film was being said by children to hurt other children, and the devastating effects of such language is made clear. Still, the MPAA refused to back down, making it necessary for TWC to clip a few curse words so that they could proceed with plans to screen the documentary at schools across the country in hopes of making an impact on America's bullying epidemic which has been ignored for too long. This also means that Bully will be able to play in more theatrical venues upon its exhibition expansion on April 13th. Notably, this is the one area where the MPAA has shown some mercy, as typically a re-edited version of a film must be released more than 90 days after the previous has left theaters, so as not to create "confusion" amongst moviegoers. (Yes. This is exactly how little the MPAA thinks of you.)
While I do find it disappointing that TWC has buckled to some degree--cutting 3 of the 6 f-words I counted upon my viewing of Bully--I am glad to hear that they have refused to change one of the film's most shocking—and thereby most critical—scenes where young Alex Libby is cruelly brutalized during a school bus ride. The scene is hard to watch, but that's precisely why it's so important. For too long it's been too easy for too many to write off children's complaints of bullying, insisting it's an ugly but common part of childhood. However, what you see happen on that bus is not just ugly, it's sinister, dangerous, and in no way should be common. Documentarian Lee Hirsch made Bully hoping to expose the uncensored, true-to-life experiences of five children that reflect an epidemic that affects 13 million kids. Thankfully, even with a few less fucks, Hirsch's message should get across loud and clear.
In a statement, Hirsch shared his thoughts on the end of Bully's rating battle:
To learn more about Bully, and its ongoing campaign for change, visit The Bully Project.
Your Daily Blend of Entertainment News
Staff writer at CinemaBlend.