Magic Mike XXL Tops Terminator Genisys On Opening Night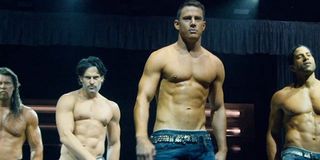 Magic Mike XXL has made a stunning start to its box office run, as the scantily clad sequel has sauntered and danced its way past Terminator Genisys' Tuesday night previews total. Clearly the allure of seeing Channing Tatum without his top on is stronger than seeing a 67-year-old Arnie fight a naked 36-year-old Arnie.
Deadline has reported that Magic Mike XXL took in the pretty stellar amount of $2.4 million thanks to its Tuesday night previews. This was just $0.1 million more than Terminator Genisys, but the fact that Magic Mike XXL was made on just a reported budget for $14.5 million, while its rival cost a whopping $155 million means that Warner Bros. will be much happier with the performance than Paramount Pictures, the studios behind Magic Mike XXL and Terminator Genisys, respectively.
Magic Mike XXL was able to take in more than the 2012 Thursday pre-show figures of its 2012 predecessor, which only amassed $2.05 million. The first Magic Mike ultimately grossed $19.4 million on its opening day, before going on to record $39.1 million over its first weekend.
It's safe to say that Magic Mike XXL is well on its way to matching this total too, and box office experts are even predicting that it will ultimately make somewhere between $45 million to $50 million over its five-day weekend. And thanks to this impressive start, Magic Mike XXL should easily accumulate this total – thanks to the fact that it appeals to a female audience that has been starved of material this summer, has been met with positive reviews, while Terminator Genisys' competition - because of its own meager critical reception - hasn't proven to be quite as stiff as originally feared.
Meanwhile, Paramount Pictures is hopeful that Terminator Genisys can ultimately amass somewhere between $50 million and $55 million in the US over its opening five days, which, despite being usurped by Magic Mike XXL on Tuesday night, is still likely to happen.
Paramount will also have faith that the fifth installment to the beloved franchise will perform better overseas, which should help it reach a respectable and profitable total. This is despite the fact that reviews for Terminator Genisys have been just as mixed as they were for the much maligned Terminator Salvation.
The thing is, though; if Terminator Genisys does flop then it could prove to be a God-send for fans of the series. Because then there would be only be one man who could genuinely save the future of the franchise like a real-life Kyle Reese. He'd just have to finish his work on Pandora first.
Your Daily Blend of Entertainment News
Thank you for signing up to CinemaBlend. You will receive a verification email shortly.
There was a problem. Please refresh the page and try again.