Man Dresses Up As Batman, Uses Saw To Steal Laundry Quarters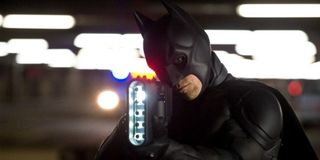 A thief sullied the good reputation of Batman over the weekend when he was caught on camera trying to rob a laundry room in Bloomington, Indiana wearing the DC character's iconic mask.
Officers have revealed that the unnamed individual was spotted wearing a Batman mask as well as a camouflage coat and pants as he entered the establishment. He then set about using a power saw to force his way into the coin dispenser that was inside the laundry room.
Sgt. Ian Tate of the Bloomington Police Department told WBIW.com that the man was spotted by three video cameras inside the laundry room at around 1am. However, the dastardly thief moved each of them to face the wall to complete his crime. When officers finally arrived on the scene, they then set about looking for, and eventually found, his saw and Batman mask in the near vicinity. At this time, no arrests have been made and anyone with any further information about possible suspects or what occurred that night should call Bloomington police immediately. It's probably safe to assume that they've already interviewed anyone with the surname Wayne from the area.
But that's not all. It turns out that the above story wasn't the only one on the crime report recently to involve superhero costumes. On Saturday at around midnight, two men dressed up as Batman and Superman respectively were caught trying to enter a home in Pocatello, Idaho. After police stopped the duo, they asked them what they were trying to do. The pair insisted that they were actually looking for a party that they had been invited too. The officers soon realized that something didn't quite add up about these comments, and they continued their questioning . Ultimately, they deciphered that Batman had provided a fake name, which he actually stuck to until officers were able to identify him by a photograph. It turned out that he had an outstanding warrant for his arrest. Unfortunately, it has also been confirmed that the man didn't try to insist that he was actually Bruce Wayne or Batman. Officers were able to identify him as 24-year-old Andrew Michael Christenson. You can check out a picture of the Batman wannabe over on the Local News 8 website, which also published the original report.
Andrew Michael Christenson is now currently being held in Bannock County Jail. Further information regarding the Superman who was paired up with Christenson's Batman hasn't been released. These two incidents are just the latest in a spate of criminal activity from the past few months that has seen robbers using superhero attire to mask their true identities. Surely wearing an old-fashioned balaclava would be more inconspicuous.
Your Daily Blend of Entertainment News