Man Of Steel's Secret Villain Revealed Through LEGO?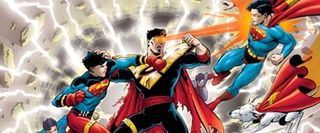 With Clark "Kal-El" Kent's last venture to the big screen Superman Returns proving a tent-pole that toppled hard domestically, the stakes are high for Zack Snyder's Superman reboot Man of Steel. But with the first looks and first trailers Synder's been slowly revealing what his version of Superman entails. And while the teasers were engaging—what with their focus on Clark's connection to his fathers, biological and adoptive, who both believe he is destined for greatness—let's get real: we're all chomping at the bit to see Michael Shannon in full-out crazy-eyed mode as General Zod!
It's likely we won't get a good look at Superman's foe until the film gets much closer to its summer 2013 release, but a new development in the movie's merchandising has revealed Zod may not be the only baddie the man of steel will face.
Screen Crush spotted a curious hint about Man of Steel within LEGO's latest release of upcoming play sets, and among many kits for Superman and Iron Man enthusiasts noticed a toy called "Superman Black Zero Escape." For those unfamiliar with the complex world of Superman comics, Black Zero is an extraterrestrial saboteur whose crime of choice is annihilating planets, like Superman's home planet Krypton and also maybe Earth. Could this mean Zod and Black Zero will team up to take Earth down? With Russell Crowe revealing he—as Clark's bio-dad Jor-El—will have a showdown with Shannon's Zod could this mean father and son will team up to face off against a two-headed threat to save all mankind? Or will it be a Harry Potter style sacrifice with a parent stepping in to save a baby destined to do great good?
Even after more revealing trailers surface, it's possible Snyder and company will attempt to conceal Black Zero—if he is involved—as there was no clear sign of him in casting news. Speaking of, Snyder has been bettering his odds in the wake of Sucker Punch backlash by stacking his cast with stellar talent including Henry Cavill as the titular superhero, Amy Adams as Lois Lane, and Kevin Costner as Clark's adoptive father Jonathan Kent. In short, whatever the conflict, he's got a super ensemble to handle the drama.
Man of Steel flies into theaters June 14, 2013, to find out.
Your Daily Blend of Entertainment News
Staff writer at CinemaBlend.