Mandy Moore's Underwater Shark Thriller 47 Meters Down Sounds Badass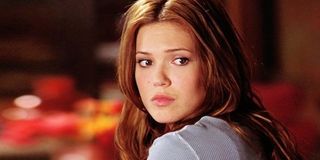 When you think of Mandy Moore movies, the first thing that pops into your mind is probably a cutesy, adorable romantic comedy about a perky young woman, played by Moore, and her misadventures in love. Her next outing, however, is something significantly different for the pop star turned actor, and it actually sounds kind of badass. She's going to fight sharks at the bottom of the ocean.
According to Deadline, the 31-year-old actress has signed with Dimension Films to headline a survival thriller called 47 Meters Down. The story focuses on two women, Kate (Moore) and her sister Lisa, who, through as yet unknown circumstances, find themselves trapped at the bottom of the ocean in an observation cage. There aren't many details, but you have to wonder from this description if this means they're scuba diving, or if they're in some kind of enclosure. That's unclear right now. What we do know at this juncture is that air is in short supply, and there is a gang of famished great white sharks in the neighborhood and looking for a quick snack.
From this report, 47 Meters Down sounds like a relatively simple premise, but one that, if handled correctly, could be made on the cheap, but pay great dividends. We mean that both financially and as a movie. There's something very visceral and unnerving about watching characters trapped under water, their reserves of air running low (it's another form of the ticking clock). They're isolated, on a truncated timetable, and when you add a bunch of hungry predators to the mix, you have the ingredients for something potentially terrifying indeed.
The one in charge of shaping all of these elements into a finished product that will make you never want to go into open water ever again, is director Johannes Roberts. He's the mastermind behind the low-budget 2012 sci-fi horror joint Storage 24 about an escaped alien presence that terrorizes a group of friend at a London self-storage unit. As his last film was set almost entirely in a single location, Roberts has experience working with stories that have a limited scope and a story that is relatively confined, so he might be in his milieu with 47 Meters Down.
This is definitely a departure for Moore, who has, up to this point in her career, primarily played romantic leads and lent her voice to animation in movies like Tangled and TV shows like TRON: Uprising. Most recently, she was seen on Fox's cancelled teen hospital drama Red Band Society with Octavia Spencer. If nothing else, it'll be interesting to see how she does working outside of her usual operating parameters, not to mention fighting sharks. I hope this is even half as awesome as Deep Blue Sea.
Your Daily Blend of Entertainment News
Your Daily Blend of Entertainment News
Thank you for signing up to CinemaBlend. You will receive a verification email shortly.
There was a problem. Please refresh the page and try again.