Marc Forster to Helm Universal's Cowboy Ninja Viking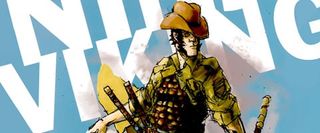 The last time we heard about Cowboy Ninja Viking was in the Fall of 2010, when Disney hired Zombieland screenwriters Rhett Reese and Paul Wernick to adapt the strange graphic novel into an adventure flick fit for Disney distribution. At the time, we marveled that the family friendly film studio was interested in a property that centered on an evil doctor turning multiple personality disorder patients into multi-faceted assassins, as it seemed well outside their comfort zone. Apparently, Disney has come to the same conclusion, as Deadline reports the studio has sold the rights to Cowboy Ninja Viking as well as Reese and Wernick's script to Universal, who has already hired Marc Forster (Quantum of Solace) to helm.
Forster is currently in post-production on the Brad Pitt-fronted horror feature World War Z, which is due out next Christmas. But as soon as that zombie-centered movie is complete, he'll probably dive right into pre-production on Cowboy Ninja Viking as Universal is hoping to get production going by year's end. The studio is also hankering for this to be the beginning of a new action franchise, which makes Forster a curious choice.
The German-born writer-director has had an unusual career. He first drew notice in 2001 when his gritty and graphic drama Monster's Ball made Halle Berry an Oscar contender, then winner. Next, he helmed the sentimental and sweet biopic Finding Neverland, before crafting the star-studded but forgettable thriller Stay. Then came the bittersweet rom-com Stranger than Fiction, followed by the deeply dark tale of Taliban rule in Afghanistan The Kite Runner. I could go on, but you get the idea. It's practically impossible to predict what genre or material Forster will take on next. This makes it difficult to gauge what kind of film Universal is looking to get from Forster.
Will Cowboy Ninja Viking be a dark comedy with plenty of gore like Zombieland? Perhaps a quirky outsider tale with a edgy but sweet sense of humor? Or will it be a sterner offering that looks to capitalize on Forster's espionage thriller experience? Ultimately, Forster's wild card reputation makes him an intriguing choice for this property, and I'm intensely curious to see what will come of it.
Staff writer at CinemaBlend.
Your Daily Blend of Entertainment News
Thank you for signing up to CinemaBlend. You will receive a verification email shortly.
There was a problem. Please refresh the page and try again.