Marc Webb Jokes That Sam Raimi Could Replace Him On The Amazing Spider-Man 2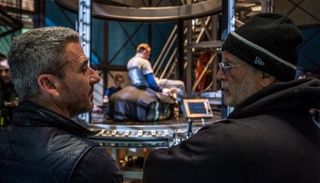 The Amazing Spider-Man 2 director Marc Webb Tweeted his own version of an April Fool's joke, posting a photo of producers Avi Arad and Matthew Tolmach asking, "Do you still have Raimi's number?"
The Tweet followed up an early picture that Webb posted in his abnormally active Twitter feed documenting Day 39 from the ongoing shoot, putting himself into an action sequence where he's laying on … something. And he's in the middle of a device that might be … well, we really don't know. But I'm guessing Webb is trying to show Andrew Garfield how he should pose during a fight sequence. Then again, that's just speculation.
Webb has given Spider-Man fans an unprecedented peek behind the curtain of his sequel's production, Tweeting spoilery photos of The Ravenscroft Institute or a crushed cab on the New York City set. And yet, with all of the pics being shared, Webb has managed to avoid giving away too much, posting more misdirection than actual spoilers – and generating a fair share of buzz around speculation of possible villains and more.
Do you know who hasn't shown up in ANY of Webb's Twitter photos? Garfield. We haven't seen him in costume, or seen him with Emma Stone and/or Shailene Woodley. Most of the things Webb has shared have been superficial shots of co-stars. But the production continues to chug along as Webb aims to reach a May 2, 2014 release date. The Amazing Spider-Man 2 returns Garfield to the Web-head's role, where he's expected to battle Electro (Jamie Foxx), The Rhino (Paul Giamatti) and, maybe, Norman Osborn's The Green Goblin (Chris Cooper). More on ASM 2 as Webb continues to Tweet away!
Movie junkie. Infatuated with comic-book films. ReelBlend cohost. Resident dad. Extroverted introvert. Wants to see the Snyder Cut. Managing Director at CinemaBlend.