Marisa Tomei Headed To Court In Lincoln Lawyer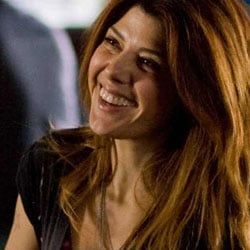 Marisa Tomei knows a thing or two about courtrooms. Awhile back she won the Academy Award for Best Supporting Actress as Mona Lisa Veto: the tough-talking, ex-grease monkey, prize witness in My Cousin Vinny. Her next movie will give her the courtroom view from the other side of the witness stand. Production Weekly has it Tomei in Stone Village Production's The Lincoln Lawyer based on the novel by Michael Connelly. Tomei will play attorney Maggie McPherson, the ex-wife of Los Angeles attorney, Mickey Haller (Matthew McConaughey).
The Lincoln Lawyer is part of a series of novels about Haller, a lawyer defending the seedier elements in the City of Angels. The movie will deal with Haller's defense of a local realtor accused of attempted murder. Of course, as in all movies and books like this, nothing is as it seems and Haller must get to the bottom of the no-goodness.
Tomei is currently in pre-production on George Ratliff's Salvation Boulevard and will play Jonah Hill's mother in this summer's Cyrus.
Your Daily Blend of Entertainment News
Doug began writing for CinemaBlend back when Terminator: The Sarah Connor Chronicles actually existed. Since then he's been writing This Rotten Week, predicting RottenTomatoes scores for movies you don't even remember for the better part of a decade. He can be found re-watching The Office for the infinity time.