Marisa Tomei Was Not So Sure About Wrestler Role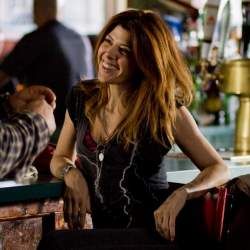 Don't go thinking that Marisa Tomei just loves being naked onscreen, and that's why she did two movies in a row that required extensive nudity. In fact, after completing Before the Devil Knows You're Dead, she didn't think she was ready for another intense filmmaking experience, playing an aging stripper in The Wrestler.
"I was like, "I've got to be nuts.' I really thought long and hard, and was not so sure for a while," Tomei said at a press junket for The Wrestler last week. She told us she had wanted to work with director Darren Aronofsky for a long time-- they even went to the same high school in Brooklyn--but he had to lay down a lot of ground rules before she signed on to the project. "He tells you up-front his process, that he likes to do a lot of takes, that he likes to try to push you emotionally. He said Mickey might be a wild card, are you down for that, are you prepared for that? Just know that it is is going to be hardcore, and please come."
But when it came time for Tomei to actually accept the role, Aronofsky dropped the professional attitude and treated her like any other friend. "He said to me, 'You have to tell me tomorrow. Don't call me, just text me "rock and roll." I know we're on. But if it's easy listening, I'll see you next time.' "
And now that Tomei has decided it's time for rock and roll, she's earning all kinds of Oscar buzz, and awards from a series of critic's groups. The Wrestler is one of those movies made by a series of people who decided to take a risk, from Aronofsky casting wild card Rourke to Bruce Springsteen recording the title song for free. We can all be thankful to Tomei that she was willing to take one as well.
Staff Writer at CinemaBlend
Your Daily Blend of Entertainment News
Thank you for signing up to CinemaBlend. You will receive a verification email shortly.
There was a problem. Please refresh the page and try again.