Mark Wahlberg Talks About Taking Hits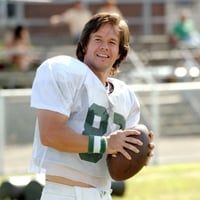 Let's face it. Who wouldn't want to Marky Mark? Some of us still can't get "Good Vibrations" out of our heads. For some lucky football players working as extras in Invincible, that dream became a reality. Mark Wahlberg stars a Philadelphia Eagles rookie Vince Papale and talked to me about taking his own hits.
"It wasn't as bad as it looks," he said. "Everything was bruised and banged up. The bigger hits in the movie were actually the ones that didn't hurt as much. A lot of clean hits. There were a couple of days where I wanted to kind of quit or tell them to take it easy, but I came in saying I wanted to be one of the guys trying to make the team like Vince was. So, I had to earn the respect of the real football players and just tough it out."
Vince Papale was an out of work substitute teacher getting part time hours at a local bar. When new coach Dick Vermiel held open tryouts, Papale went for it on a lark. He was the only local boy good enough to make the team. Papale is still around today to share his stories with Wahlberg.
"We spent a lot of time together. He likes to hang out. He likes to talk. Great guy, really great guy. And it's so hard because he is the best sales man for Vince Papale's story, because he is just so enthusiastic. So energetic and passionate. He's a great guy. He's a heroic guy in what he accomplished on the field, but who he is away from the field is what I'm really impressed with. They did a good job of capturing him in the script. He's a guy from South Philly and he's got all these things not going his way. He's not going to be so nice about it. But he just takes things as they come and certainly can't control other people, what they want to do, his wife leaving and him losing his job. The only thing he can control is how much he gave to the Eagles and that's were he poured it all out."
Of course, Wahlberg grew up in Boston rooting for the Patriots. Isn't he kind of a defector to do an Eagles story? "Oh, we had just beaten them in the Superbowl the year before, so it wasn't a big deal. But I did become an Eagles fan and really the reason behind that was because they are so loyal, so passionate about their team. And that's who Vince Papale was. He was a fan of the eagles, so when he went out there, he played so hard because he was trying to help the Eagles win. That's what it was. He wasn't trying to make the team for himself, he was trying to make the Eagles better. He didn't understand why the other guys in camp weren't working as hard. And eventually it rubbed off which was why he was named captain of special teams which had never happened before."
Ultimately, Wahlberg found that he and Papale had similar backgrounds. "South Philly and Dorchester are not much different except that maybe except for row houses you have triple-deckers. And instead of maybe a Fenway Frank you have a cheesesteak. It's very similar. Blue collar, hard working, regular types of guys. Yeah, Irish [vs.] Italian, but living the same lifestyle. Both those areas are sort of melting pots and a really poor section of town."
Actors will claim a lot of talents to win their parts, so pretending to be a former baller is the least of Hollywood's lies. "I told them I played in college and all this other bullshit. I obviously never went to college or high school. But I grew up playing pretty much every sport. Football is like hockey in that it's an expensive sport to play. You have to have the proper equipment and finding a place to practice and have games. So, if we had a football we just played tackle on the streets. Very similar to the sandlot games, but Vince was there every step of the way and one of the few times I got to have some fun with him was the first time I went to football camp. And I acted like I couldn't catch or run and he was a little freaked out."
The sports movie is a Hollywood staple. Disney now cranks two of them out a year. "I don't know why Hollywood likes them. I know why I like them. II like to see people succeed. I like to see people win. Certainly makes me happy. I imagine that Hollywood only makes movies if they think they work or they have worked in the past. There is no mystery to what they are doing or what they are trying to do. They are trying to make more money."
Even though Invincible follows all the underdog beats you'd expect, somehow that just keeps it true to Papale. "I understand what you are saying. It is to a certain extent. There are only so many stories to be told and you just have to find new and interesting ways to do it. I think you'll get Vince and in five minutes you'll get exactly who he is."
Wahlberg still gets the executive producer credit on Entourage, but at the end of its third year, his actual duties have been limited to fanfare. "I watch it on Sunday. I was watching it and was watching roughcuts, but why? It's so fucking good. You just can be surprised just like everyone else. They certainly have it down."
So no season finale spoilers, but you can see Wahlberg in Invincible Friday.
Your Daily Blend of Entertainment News