Matt Damon Hints At More Bourne In His Future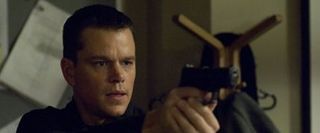 The Bourne torch may have been passing to Jeremy Renner with next year's The Bourne Legacy, but that doesn't mean that Matt Damon is abandoning the possibility of eventually returning to the role that made him an action star. In an interview with Shortlist.com, Damon tossed more fuel on the fire for fans who would like to see him back in the role of amnesiac badass Jason Bourne:
Hardly stamping a release date on any future Damon/Greengrass Bourne flicks, but at least the door isn't totally closed. Of course, the question is: should Damon return to that well? It remains to be seen how The Bourne Legacy will shape up, but the existing Bourne films comprise one of the best action trilogies in decades, and culminate in a pretty damn perfect ending, as well. If Damon and/or Greengrass do eventually return to the franchise, here's hoping they do so because somebody has a really good idea about what to do with Jason Bourne, rather than just as a cash grab. If Legacy isn't a solid hit, I can totally see Universal trying to coerce Damon back to reinvigorate the brand.
Hopefully that won't be a concern, however. Tony Gilroy is both co-writing and directing Legacy, after having co-written the first three Bourne flicks, and Jeremy Renner is poised to blow up as the next big thing, with roles in the upcoming Avengers and Mission: Impossible movies on top of Legacy. If we have to get another Bourne flick without Damon, these are capable hands to leave the franchise in. Either way, we'll see if Renner can fill Damon's shoes next summer, when The Bourne Legacy opens in theaters.
What do you think? Are you excited about The Bourne Legacy? Would you like to see Damon eventually return to the franchise? Sound off over on Cinema Blend's Facebook fan page.
Your Daily Blend of Entertainment News
Thank you for signing up to CinemaBlend. You will receive a verification email shortly.
There was a problem. Please refresh the page and try again.